Quicknote bioenergy potential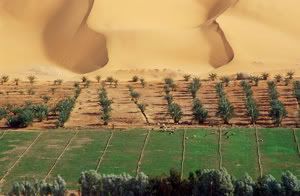 The arid and semi-arid subtropics form regions that don't get much attention when it comes to their biofuels potential. However, quite a number of crops are being studied and bred to thrive in these regions (such as
cardoon
,
jatropha
,
sorghum
, or
groundnut
). But the zone where a desert ends and potential farmland begins is very fragile. It is a battlefield where desertification and efforts to combat it play out.
According to
New Scientist
"for once there is some good news" from the Sahel in Africa. Farmers there are reclaiming the desert, turning its barren wastelands into green, productive farmland, that could potentially be used as a base for bioenergy feedstock production. Satellite images taken this year and 20 years ago show that the desert is in retreat thanks to a resurgence of trees. They are mainly ana trees (
Faidherbia albida
), a type of acacia, which is itself a kind of energy crop. Wherever the trees grow, farming can resume.
Tree planting has led to the re-greening of as much as 3 million hectares of land in Niger, enabling some 250,000 hectares to be farmed again. The land became barren in the 1970s and early 1980s through poor management and indiscriminate felling of trees for firewood, but since the mid-1980s farmers in parts of Niger have been protecting them instead of chopping them down.
"The results have been staggering", says Chris Reij of the Free University Amsterdam in the Netherlands, and are due to a "virtuous circle of benefits" between trees and their surrounding landscapes. "Leaves and fruits provide food, fodder and organic matter to fortify the soil," for instance. "More livestock means more manure, which further enriches the soil enabling crops to be grown, and spreads tree seeds so new trees grow. The trees also provide shelter for crops and help prevent soil erosion. In times of drought, firewood can be sold and food purchased to tide families over."
Further, pro-tree land use policies – including better rainwater management practices – "are helping communities in Niger re-establish control over their fate, simultaneously halting the march of the desert and helping to prevent famines like the one that hit Niger in July 2005."
biomass :: bioenergy :: biofuels :: energy :: sustainability :: Sahel :: desertification :: acacia :: Niger ::
Article continues