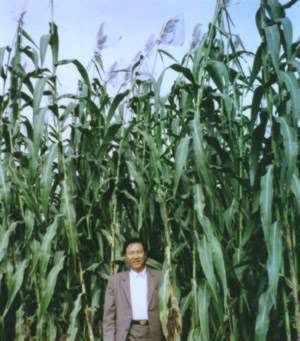 In a major breakthrough that will benefit poor farmers in the Global South, the
International Crops Research Institute for the Semi-Arid Tropics
(ICRISAT) has successfully helped in achieving commercial production of ethanol from juice of the sweet sorghum stalk.
Sweet sorghum (
Sorghum bicolor
) [
crop file at ICRISAT
] is a drought-tolerant and very water-efficient hardy cereal crop grown in the semi-arid tropics by millions of poor farmers. Many scientists think that this "camel among crops" could be the key to agricultural development in areas affected by aridity and saline soils. It grows very tall (up to 5 metres/15ft) with its stems being rich in easily extractable sugars. Sorghum can serve as an excellent source for ethanol while still meeting the food, fibre, feed and fodder needs of the small farmers, ICRISAT director general William Dar
says
.
He recently commissioned a 40,000-litre per day fuel ethanol and extra-neutral alcohol re-distillation plant at Mohammed Shahpur village in Medak district in Andhra Pradesh, India, to convert the juice from the sweet sorghum stalk into bio-ethanol.
"With the commissioning of the distillery costing US$7 million, ICRISAT will be one of the first institutes in the world to facilitate a project that links distillery producing ethanol from sweet sorghum to the poor and the marginal farmers of the semi-arid tropics," Dar said in a statement.
The project has utilised the ability of ICRISAT, based near Hyderabad, in breeding varieties of sorghum that have a higher content of sugar in their stalk. Through the Agri-Business Incubator (ABI), the technology commercialisation arm of ICRISAT, the institute built a successful partnership with Rusni Distillery, a private sector partner, to produce ethanol from sweet sorghum:
biodiesel :: biomass :: bioenergy :: biofuels :: energy :: sustainability :: arid :: tropics :: development :: sorghum bicolor :: sweet sorghum ::

With fuel prices in rural areas skyrocketing, there is increasing demand for biofuels like ethanol, which can be blended with petrol and diesel for use in transportation. India is planning to extend supply of ethanol-blended petrol across the country from November onwards (earlier post).

Ethanol-blended fuel is currently being supplied in nine states including Tamil Nadu and Maharashtra. "By linking the distillery with the sorghum farmers we have helped empower small farmers to realise an additional end use and thereby increase their income and improve livelihood security," Dar said.

The pioneering venture is expected to benefit not only the 3,000-odd farmers of Medak district who grow the crop, but also generate employment for many more farm families.

A. R. Palaniswamy, managing director of Rusni Distilleries, holds a patent for the technology for producing ethanol from sweet sorghum stalk.

Article continues