Many developing countries have extensive drylands that are not very suitable for agriculture and where desertification is a problem. From the Sahel in Africa to the drylands of Northwestern India, Pakistan and Afghanistan, over Northern Mexico and the Pacific coastal deserts of Western South America to the drylands of Southern Africa - none of those regions are associated with biofuels production as yet. But that could change in the near future. Earlier we referred to some research programs that are underway to find drought-tolerant energy crops suitable for these regions, such as
cardoon
and jatropha. But a new crop is on the horizon, and it already grows profusely in some parts of the world.
Its name is mesquite (
Prosopis Juliflora
), a tree species native to Northern Mexico and the Southern U.S., that survives droughts and that thrives in sunny arid regions. The plant fixes its own nitrogen, requires no seeding, fertilization or irrigation, resprouts vigorously after topkill and grows on dry, nutrient-poor soils. Most often, the tree grows only to become a thorny shrub, but its complex and deep-ranging root system allows it to tap different water tables, both at the surface and deep underground, which makes it a very hardy crop. The roots also act as an energy storage mechanism, because once a tree is cut down, new shoots spring up rapidly from the existing roots.
Recognizing these advantages, several projects have been underway in the developing world based on using mesquite to fight desertification. An example is an FAO project launched in Kenya 20 years ago; there the trees (locally known as
mathenge
) grew so well that in fact they have now become
a highly invasive pest
, the thorny bushes harming grazing animals.
Now researchers from the Texas Agricultural Experiment Station have
found
that the economics of using mesquite as a liquid biofuel feedstock are becoming favorable. The dense mesquite-covered mid-section of Texas could provide fuel for about 400 small ethanol plants, says Dr Jim Ansley, an Experiment Station rangeland researcher at Vernon. Ansley is studying the supply, harvest technologies, ethanol conversion rates and ecological effects of mesquite-to-ethanol production.
Some basic results from the research:
One ton of mesquite wood will yield about 760 litres (200 gallons) of ethanol, he said. A hectare of the densely populated mesquite standing 3 to 4 metres tall will yield about 20 to 25 tons of wood, or a total yield of 15000 to 18700 litres of ethanol (1600 to 2000 gallons per acre).

A commercial refinery producing 19 million litres (5 million gallons) of ethanol per year will require about 12,000 hectares (30,000 acres) to sustain it, an approximate 6 to 8 kilometre (4 to 5 mile) radius if the refinery is located near the middle of the mesquite stand.

A decentralised approach with ethanol plants located near the place where the biomass grows is the only feasible option; transporting the raw, bulky biomass to central plants is too costly.

Each refinery would support about 30 jobs and enhance rural economies.

A patented process to convert the wood into ethanol is being tested in a prototype plant by Pearson BioEnergy Inc. in Aberdeen, Mississippi


Using mesquite in other bioconversion processes (such as biomass-to-liquids or direct combustion) shows positive economics too

there are an estimated 20 million hectares (51 million acres) of mesquite in Texas, with 12 million hectares (30 million acres) of moderate to dense mesquite in Central Texas



Dedicated harvester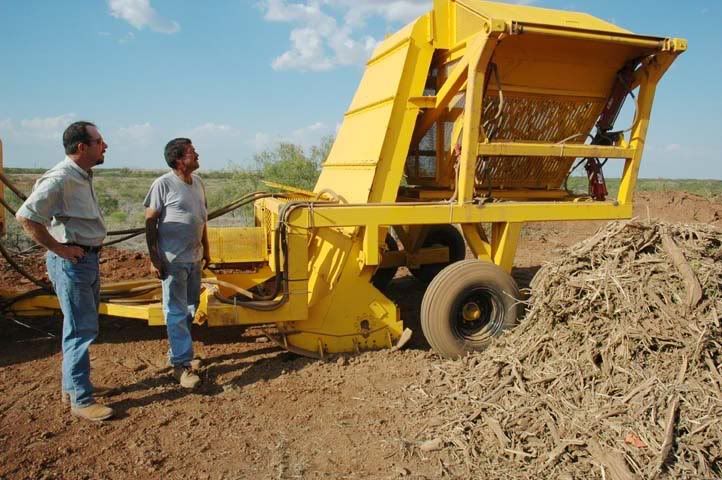 The researchers are taking the development of a mesquite-based bioenergy industry seriously and have already
developed a dedicated harvesting machine
. Knocking down mesquite hasn't been a problem in the past, but picking it up and getting it off the land in an efficient manner has. For the past year and a half, Dr Ansley has been working with private industry to build the harvester prototype for which a joint patent is pending. The patent and commercial production will be carried through Brush Unlimited and Richard Frailey of Altus, Okla. Ansley said he and Frailey already have been contacted by several people in Texas, New Mexico and Oklahoma who have expressed interest in buying the machines. The harvesting operation works as follows:
ethanol :: biomass :: bioenergy :: biofuels :: energy :: sustainability :: drylands :: desertification :: mesquite ::

A conventional brush-cutting machine such as the Barko 775C or HydroAxe is used to fell or rough cut the trees. These brush cutters have a large rotor in front with what are called hammers on it to knock down the brush.

The new harvesting machine is not self-powered and is pulled through the felled trees with the HydroAxe, Ansley said. It is powered by the HydroAxe with a hydraulic system. With another rotor and more hammers, the felled wood is further broken up and then sucked up a chute and into a hydraulically hinged bin.

From there, the wood can be dumped into trucks and hauled to an ethanol plant, where it would be further ground into a sawdust and entered into the ethanol-production system, he said.

The new machine was designed for a commercial-size ethanol plant, with the capability to harvest 5 to 10 acres a day, Ansley said, but it doesn't have to be limited to mesquite harvest.

A smaller version could be used for roadside cleanup or a producer may want to use it as a shredder and a way to remove the debris and thorns from the pasture, he said.

Mesquite is not totally removed, so regrowth will occur, Ansley said. That is important to the mesquite-to-ethanol program. He estimates that in North Texas, at least 10 years of regrowth is needed before mesquite can be harvested again.

His studies show each 10- to 12-year-old regrowth tree has about 100 to 120 pounds of wood. Thus, an estimated 300 trees per acre would produce about 30,000 pounds or 15 tons per acre.

The concept of harvesting mesquite as a biofuel has been around since the 1970s, Ansley said. There have been unsuccessful attempts in the past to build machines designed to cut and collect the mesquite all in one machine.



Why mesquite is an attractive energy crop


"One aspect of mesquite that makes it an attractive renewable fuel is once the above ground growth has been harvested, it sprouts back pretty vigorously," Ansley said. "We're looking at how long it takes before it can be economically harvested again." A State Energy Conservation Office grant has allowed his team to study harvest of different regrowth rates, as well as develop the mechanized system of harvesting mesquite.

"We've run some trials with the machine and we think we have a technique that is workable for gathering this mesquite wood," he said. "That has not been done before." Ranchers have long been looking for a way to utilize the mesquite growing wild on their pasturelands, but until now, nothing has looked economical, Ansley said.

Mesquite could be used in a wood-fired power plant, but "we think there's much greater potential with ethanol."

In Texas, the prime area to harvest mesquite is the middle third of the state: a band bordered on the west by a line from Childress to Del Rio and on the east from Decatur to Austin. "We're talking small travel distance from wood source to these refineries, about 4 to 5 miles," Ansley said. "They would process about 5 million gallons per year of ethanol, which would require about 30,000 acres. Only about 10 percent would be harvested each year, with about 10 years needed for regrowth."

Livestock and wildlife operations should co-exist with a harvest area and be improved with enhanced grass growth and patterned harvest of mesquite, he said. "The economics are good now," Ansley said. "It just looks tremendously profitable to me today."

The largest expense – building a refinery – is expected to be about $8 million with a profitability of $2 million a year after expenses, he said. "We're in the process of trying to measure how much energy it takes to harvest mesquite in the field," Ansley said. "That's probably our least researched area. Now that we have this machine constructed, we can start working on that."

Researchers will study different sizes and densities of mesquite and look at the time needed to harvest and the fuel used by the machinery and factor that into the total cost per acre. "Right now we're estimating $300 per acre, but even if the cost was three times that, we'd still show a profit," Ansley said. "Honestly, I don't know why we haven't done this already, when I look at the numbers.

Funding for the project has been provided by a grant from the DOE-State Energy Conservation Office, along with funding from Pearson BioEnergy and the Experiment Station. Ansley also recently began working with Cameron University in Lawton, Okla., which received a grant from the state of Oklahoma to look at mesquite as an alternative fuel in southwestern Oklahoma. "To develop this industry, there are supply, harvest, conversion and ecological issues," Ansley said. "Here, we're looking at cutting, collecting, baling and transporting the mesquite feedstock."


Article continues