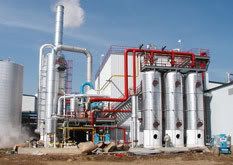 James Monroe Corporation has found a new favorite customer: the developing world. Due to demand from developing countries, James Monroe Capital is
responding
with a new marketing plan. Diversified Ethanol, a subsidiary of James Monroe Capital, is engineering and manufacturing small, modular and more easily affordable ethanol plants. The plants can run on a variety of biomass feedstocks, including fruit waste, (tropical) grasses, and all other sources of sugars.
Many developing countries have abundant sugar crops, with fruit processing plants and sugarcane fields. Some export these crops, and receive low prices for their crops and their waste products. Also, many of these countries suffer from very high fuel costs, and have very low labor costs. Some lack the rail and freight logistics systems to handle giant ethanol plants, and the finances to build them, so a decentralised infrastructure is more interesting. To top it all off, some of these countries are also very hot, year round, and can run their vehicles on 190 proof fuel, which is much cheaper to produce than the 200 proof needed in the US. Even the byproducts of the ethanol process are edible. All of these factors have sent several small countries, investors, and governmental heavies into a race to see who can dominate their markets first.
Small, modular biofuel plants play a crucial role in carrying out the
bioenergy paradigm
in which local resource control, decentralisation and energy independence take center stage.
The company's new marketing plan includes targeting plant-buying investors with strong foreign relationships, especially governmental ties, and building relationships with key people overseas.
Diversified ethanol's fuel plants and services come as an integrated package with the the following specifications:
ethanol :: biomass :: bioenergy :: biofuels :: energy :: sustainability :: developing world :: decentralisation ::

-The standard A500 plant costs US$1.6 million dollars.

-It is designed to operate 24/7, be low maintenance, and provide roughly 1.9 million liters (500,000 gallons) per year. It is guaranteed to produce 190 proof at 230 litres (62 gallons) per hour from milled feedstock when delivered. Additional profits are realized by selling the nutritient and edible by-product, wet cake distiller's grains, to local farmers for nearly the price of corn. If you require 200 proof, the matching small molecular sieve is available, additionally. Final numbers will be provided soon, when engineering is finished, including BTU information, and so on.

-the standard package and training should be more than enough to ensure success to clients, but if lenders require buyers to have a long-term guarantees, the company offers its Guaranteed Service and Management contract, for a percentage of profit sharing.

-The plant design is modular, so owners can keep adding lines. Or, if they prefer to build-up, the company offers an upgrade program where it will sell the owners' used equipment.

-The advantages of using small fermentation batches are numerous: there is less risk, permitting is easier, energy service to the facility is simple, shutting down one line for service doesn't shut down the entire plant, it is compatible with lower-cost locations, upgrading and growing the plant is simple, and one can quickly begin producing ethanol with a minimum of capital outlay.

-The plant can be switched to take herbaceous feedstocks (such as tropical grass grops) for the production of ethanol, once the enzymes become available. The only changes needed are a suitable grinder, different enzymes, and some fine-tuning.

-The power requirements for the plant: the design can be used with almost any type of boiler and any type of feedstock, including biomass heat. The model plant uses less energy (due to ease of selling wet distillers grains) and is therefore less dependent on fuel selection.



Article continues