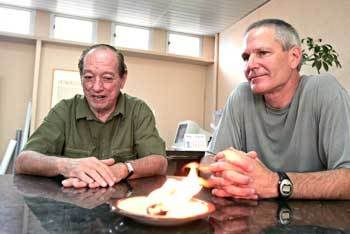 Tecbio's president Expedito Parente and Boeing's Danny Hatfield at Tecbio's headquarters in Fortaleza, Brazil - burning some biokerosene.
Earlier we wrote about biofuels for aviation, reporting that
Argentina's air force carried out the first tests with green fuels in a large aircraft
(a C130). We also pointed out the
many challenges
facing the production of biofuels for airplanes. Now America's National Aeronautics and Space Administration (NASA) and Boeing are teaming up with Brazilian biofuel company
Tecbio
to develop biokerosene ("biojet").
The alternative vegetable-oils based fuel to power airplanes was invented by Tecbio in 1980 and flight tested in Brazil on the 24th of octobre 1984. Back then, the test was carried out with pure (B100) biokerosene which the company called 'Prosene', in a Bandeirante aircraft (manufactured by Brazil's Embraer, a company that developed a small
ethanol powered airplane
). The pilot successfully flew the craft for 600 kilometres from São José dos Campos -- Brazil's aircraft manufacturing hub -- to the capital Brasília (for this history, see
Diário do Nordeste
[*Portuguese and cache]). Soon afterwards, on low oil prices, the fuel was abandoned, only to attrach fresh interest again after oil prices rose to record levels this year.
"We are starting to resurrect biokerosene ... the scenario today is different," Tecbio's president Expedito Parente said, adding that the partnership with NASA and Boeing was still at an early stage. A memorandum of understanding was
signed
earlier this month. Parente told the seminar in Sao Paulo that he expected to get the fuel patented in 2008.
The patent is based on much earlier work carried out by Mr Parente and Mr Délio Jardim de Matos in the early 1980s for Brazil's Ministry of Aeronautics. The 'bioquerosene' project resulted in successful tests of the fuel in turbine engines, work for which a patent was granted (PI-8007957-INPI). This research, carried out for the military junta that ruled the country at the time, was considered of strategic importance and deemed a state secret. (More on this history can be found in one of Tecbio's
recent seminars
[*.pdf/Portuguese])
According to Francisco Nivardo Ximenes Guimarães, Tecbio's commercial spokesperson, the
biokerosene will revolutionize agriculture in Brazil's poor Nordeste region
[*Portuguese / cache] - promising to bring countless jobs to small farmers and the rural poor. "The new kerosene can be produced from vegetable oils from some ten different oil crops which thrive in this most underdeveloped region of the country." Oilseed bearing (exotic) palm species such as babaçu ('babassu', about which we reported
earlier
- see last note), macaúba, and coco-da-baía will be used, amongst others. "The north hosts some 18 million hectares of wild Babassu trees", he added.
Based in Fortaleza, capital of the northeastern state of Ceara, Tecbio is Brazil's largest biodiesel technology company, having built 8 plants so far (with a combined capacity of 49.6 million liters per year), 6 far larger ones under construction (with a combined capacity of 657.7 million liters per year, or 11,000 barrels per day), and seeking funding for another 4 (check under 'Portifólio' at
Tecbio's website
- no direct link, no english version yet.)
Brazil takes
pride in its aviation history
, claiming to be the native country of the 'real father of aviation', Mr Santos Dumont who flew airplanes earlier than the Wright Brothers. Even though that history is up for dispute, it looks certain that Brazil might rightly claim the accolade of being the first to fly commercial aircraft on green, clean, renewable biokerosene.
More information:
[Entry ends here].
biodiesel :: biofuels :: aviation :: biokerosene :: biojetfuel :: Brazil :: Tecbio :: Boeing :: NASA ::
Article continues