Quicknote bioenergy potential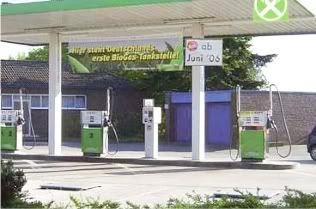 Lately we have been reporting profusely about activities in the global biogas sector, but we wanted to add one more short note:
Germany has opened its first biogas station
where CNG-powered cars can tank for green and renewable fuel. We think this is an important development, because not only is Germany a world leader when it comes to implementing green energy policies, it is also the world's most active country when it comes to adapting and transferring practical and sustainable technologies to the developing world (the most obvious example is Germany's well-known leadership when it comes to transferring wind energy technology to places as far away as Mongolia and Ushuaia).
We really think that biogas stands to become a leading fuel for transport in the rapidly developing global south, for reasons that we have explained
elsewhere
. And it is our hope that the country known for its engineers, its exports, and its committment to development aid, will help to export this most promising of biofuels too.
Germany's first station is located in Jameln (Lüchow-Dannenberg) and offers biogas produced from dedicated biomass feedstocks that are supplied by local farmers. These farmers bring their quota of energy crops to the local 'Raiffeisen Warengenossenschaft', where it gets processed in huge anaerobic digesters. Haase Energietechnik AG, then removes sulfur, CO2 and other particles to obtain a methane content of 96% (higher than natural gas) with a maximum sulfur content of 5 parts per million. This pure, the biogas can readily be used by cars that operate on compressed natural gas, without any modifications.
The efficiency of the entire production cycle is being studied, but according to the first calculations and results, the well-to-wheel efficiency is considerably higher than that of biodiesel produced from rapeseed.
We can't wait to see this fuel of the future powering the millions of cars that are being bought by the nascent middle classes in the regions that will determine our energy future - that is, the 'developing world'. [Entry ends here].
biomass :: bioenergy :: biofuels :: sustainability :: alternative fuel :: biogas :: methane :: Germany ::
Article continues