This is a guest post by Dr Kombo Mason Braide, Fellow of the Nigerian Society of Chemical Engineers, a member of the Institute of Energy, the Institute of Petroleum, and the Society of Petroleum Engineers. He is a graduate of the University of Leeds, England, and obtained a PhD in Fuel & Energy Engineering in 1980, specialising in alternative liquid fuels. Dr Braide has years of experience working as a consultant in the Nigerian oil industry.

In the essay, Dr Braide presents a fascinating history of alcohol in Nigeria (and in the USA), and how the state has put a legislative framework in place that might make the development of a local 'cottage' biofuels industry difficult. At the same time he shows why the creation of a decentralized ethanol industry in Nigeria is both possible, necessary and viable.
Both the criminalisation of 'Ogogoro', 'Abua First Eleven', 'Kaikai', 'Sapele water', 'Agbagba', 'Akpeteshi', 'Aka mere', 'Push me, I push you', and 'Craze man in the bottle', all of whose principal ingredient is ethyl alcohol (C2H5OH), a high value environment friendly, renewable specialty chemical in the domestic and international markets, combined with the inefficient production and storage of its readily available agriculture-based feedstocks, constitute serious weaknesses and threats to the viability of small- and medium scaled ethanol bio-refineries, particularly in rural areas, in Nigeria. We present an overview of the problem, the historical contexts, and conclude by advocating a workable revitalization of ethanol production in Nigeria. The commercial, social, technical, and developmental spillover effects are diverse and significant.
Once again, yet another corn season is here with us, and the obligatory 'mouth organ' and roasted 'pear' orchestral manoeuvres have already started in full blast all over Nigeria, particularly in the former Southern Protectorate of Nigeria, that is to say, in today's Niger Delta, South East, and South West zones, including some sub-tropical parts of the Middle Belt. Typically, the corn season kicks off with the copious supplies of sweet soft fresh corns from the farms, out-stripping both the street corner corn roaster's process capacity (i.e. roasting speed), and market demand (i.e. the voracious consumption rate triggered by customer satisfaction). However, towards the end of the corn season, farm inputs of corncobs to the roadside corn peddling middleperson (usually female) start diminishing drastically. Furthermore, the quality of the corn diminishes exponentially with time, almost to rock hard, jaw-aching levels. Thus, quality nose-dives, demand exceeds supply, and the corn season invariably ends with a foreseeable anticlimax every single year since modern history.
Alcohol to drink, alcohol to burn
In an effectively deregulated petroleum industry in Nigeria, certain unavoidable linkages have to be in place between commercially viable, non-state-ran, small- to medium-scale industries, the downstream sector, and the global markets. One such feasible linkage between private cottage industries and a deregulated Nigerian petroleum industry is the manufacture of ethanol, the principal ingredient of both whiskey and vodka, but also of local drinks known under such names as 'Ogogoro', 'Abua First Eleven', 'Kaikai', 'Sapele water', 'Agbagba', 'Craze man in the bottle', 'Aka mere', 'Push me, I push you', and 'Akpeteshi'.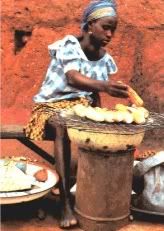 Corn, as an agriculture-based (renewable) industrial feedstock, is an ideal candidate for the manufacture of ethanol. Corn is readily cultivated on a large scale in most urban and rural areas of Nigeria, and with minimum skills requirements. Clearly, its use as a feedstock for the industrial manufacture of ethanol radically upgrades its market value, ensures its effective utilisation, and creates jobs, far better than simply eating it would, no matter how sweet or/and soft the corn may be. Furthermore, the end product of transforming (sweet and soft) corn into industrial grade ethyl alcohol is in high demand in the world specialty chemicals market.
Ethanol or ethyl alcohol (C2H5OH) is a renewable chemical. For ethanol, the attraction lies in its substitution role, and indeed, its increasing importance in the production of environmentally friendly high-octane gas. The possible stimulation of rural cottage industrial activities via the establishment of ethanol bio-refineries, located close to their primary feedstock (corn or cassava or rice, or indeed any other suitable source of carbohydrate), is a non-trivial additional advantage.
Nevertheless, ethanol is also a recreational chemical, which, incidentally, puritan conformists, religious demagogues, moderate liberals, and bohemian radicals love, hate, love to hate, or hate to love. In a sense, with the exception of methyl alcohol, CH3OH (medical methylated spirit) that is not really that desirable for internal consumption, and may possibly be lethal, alcohols are generally a family of socially stigmatised chemicals. The immense commercial potentials of ethyl alcohol (C2H5OH) remain undoubtedly rewarding. Meanwhile, the creeks of the Niger Delta, and elsewhere in Nigeria, are replete with local distilleries that are potentially commercially lucrative supply sources of tremendous inventories of ethanol (ogogoro), but are in fact illegal. This is the problem.
The need for a policy paradigm shift
The criminalisation of the production, custody, trafficking, and consumption of crude ethanol in Nigeria has its roots in the country's colonial history and, quite unfortunately, it is adversely affecting the post-colonial economy of the region, and by extension, the Nigerian macro-economy. The same holds for other geopolitical zones of Nigeria that produce the feedstock (corn, potatoes, rice, yams) for ethanol manufacture. In some parts, the criminalisation may even be based on dogma. The obvious inefficient utilisation of corn, the sub-optimal operation of local alcohol distilleries, and the moral antagonism towards the ingestion of ethyl alcohol, all call for a serious and radical rethink. Ultimately, we might be forced to have to change our mind-set if only we appreciate ethyl alcohol's amazing past saga. Consequently, a brief history of ethanol follows:
ethanol :: biofuels :: sustainability :: corn :: cassava :: alcohol :: Nigeria ::




A Brief History Of Alcohol


Before the American Civil War, ethyl alcohol, typically derived from corncobs, was one of the most commercially lucrative industrial chemicals in the USA. It was used primarily as a solvent and for lighting. However, in order to finance the American Civil War, US President Abraham Lincoln imposed a Spirits Tax of about 50 cents per litre. Ethanol was taxed because it is drinkable, although one wonders if, at 200º proof, it is not literally dynamite, but indeed, also a mind-blowing, and very potent snack. Other undrinkable fuels, such as kerosene, were taxed only 3 cents per litre. The Spirits Tax was not lifted until 1906, after the automobile industry was born.

The 18th Amendment (Prohibition Act) of 1919 was disastrous for the ethyl alcohol business: Prohibition did not actually prohibit the manufacture of fuel ethanol, but the Treasury Department issued very few production permits for fear that the ethanol could be diverted into the drinkable (classified illegal) alcohol market. To date, fuel ethanol put in ethanol-fired transport vehicles bears a legacy from that era of prohibition. This is because, just before ethyl alcohol leaves the refinery, the it must be poisoned to make it undrinkable. Nevertheless, ethanol made a modest comeback.

In the early 1920s, ethanol suffered still another setback. Oil and vehicle companies desperately sought an additive that would permit petrol to burn evenly in internal combustion engines. Ethyl alcohol was an attractive candidate. However, to do its job well, it needed 5 to 10% of the gas tank, and oil companies were not about to relinquish that share of the transportation market to farmers, despite the stark reality of American agriculture's plunge into a very deep depression that lasted for almost 20 painful years. Instead, the companies chose

tetra ethyl lead

(TEL). In 1924, despite many public health protests, Ethyl Corporation, a Standard Oil-General Motors Joint Venture, offered leaded gasoline. By 1940, about 70% of all petrol in the USA contained lead tetra ethyl.

With the end of Prohibition in 1933, ethanol production slowly revived. Then Japan cut off America's supplies of natural rubber. The nation's breweries were drafted into service to manufacture ethanol to make synthetic rubber. By 1944, ethyl alcohol production had reached over 2,5 billion litres per annum. After World War II, the commercial and political constituencies for ethanol disappeared. The price of crude oil plummeted. The Marshall Plan generated an export market for American crops. Once again, bio-ethanol vanished from the market. By the end of World War II, ethanol production returned to pre-American Civil War levels. Thanks to market forces!

Thirty years later both dwindling crude oil shocks and the realization that leaded gasoline was a health hazard combined to give ethanol another lease on life. The US Congress gave ethanol a handsome tax incentive, although not nearly as handsome as the incentives given for the gasification of coal or the production of nuclear power. The incentive made the price of ethanol competitive with unleaded gasoline but the major oil companies still refused to give up a share of the petrol tank.

In the USA, the ethyl alcohol industry re-emerged primarily by selling ethanol through independently owned and cooperatively owned petrol stations. The phase-out of leaded gasoline furnished ethanol another opportunity to become the octane-enhancing additive of choice. Instead, oil companies chose to increase octane by increasing the portion of light aromatics like benzene, toluene, and xylene in their petrol. By 1990, as much as 40% of petrol comprised of these highly toxic chemicals. When it was discovered that benzene caused cancer, the US Clean Air Act (1990) required oil refineries to minimize its use. The same act also required them to oxygenate the gasoline sold in highly polluted areas of the United States of America. Ethyl alcohol, an oxygen-containing octane enhancer, was ready. Instead, the oil companies embraced another 100% fossil fuel-derived product,

methyl tetra butyl ether

(MTBE).

In l996, the market for MTBE in the US of A began to increase massively. However, within a few months, communities discovered MTBE in their water. By 2000, 14 states in the USA, led by California, passed legislation to phase out MTBE. With the phase-out of MTBE, the ethanol industry geared up for a major resurgence, much of which has occurred in farmer-owned facilities. In Wrestling Champion Governor Jesse Ventura's state of Minnesota, for example, the rural farmers own over 70% of the ethanol bio-refineries. By the end of 2002, about 90% of the ethanol plants in Iowa will be farmer-owned. Farmer ownership yields the better return on investment. For the farmer-owned ethanol biorefineries, there is a 10-fold increase in realisable profit.

In 2000, California asked permission to allow oil companies to abandon oxygenates and reformulate gasoline once more, this time to increase the proportion of chemicals called alkylates. Last year President Bush denied its request. Over the past few months, a compromise has been fashioned between the oil and ethanol industries. A provision of the energy bill would allow California and other states, to rely on 100 percent gasoline. In return, the nation as a whole would have to meet a modest renewable fuel standard.



Conclusion and steps towards the future


Private entrepreneurs, should strive to establish as many ethanol bio-refineries as possible, particularly in the rural areas, not only in the traditional 'bread baskets' of Nigeria, but also in Port Harcourt, Abuja, Okitipupa, Nembe, Nnewi, Kaduna, Ibadan, Sapele, Maiduguri, Arochukwu, Abua, Lokoja, wherever, indeed all over the country. Nevertheless, if the National Assembly designs significant incentives that encourage modestly sized, farmer-owned facilities, competition will flourish and even rural economies will expand concurrently.

After over 85 years of being criminalised, ethanol, the active ingredient of 'Ogogoro' and 'Push me, I push you', could mark the true beginning of the age of viable renewable biofuels in Nigeria for the better.

By Kombo Mason Brade

Dr Kombo Mason Braide is the CEO, AlphaNumerix (Fuel, Combustion, Energy & Process Engineering Consulting) Ltd, Port Harcourt, Nigeria. He was a one-time consultant to Nour Development Corporation, Paris, France, the Area Manager, Pipelines & Products Marketing Company Ltd (systems 2E & 2EX), Port Harcourt, Nigeria, and the Manager, Petroleum Products Research & Laboratory Services, Research & Development Division of the Nigerian National Petroleum Corporation.

Dr Kombo Braide, who is a Fellow of the Nigerian Society of Chemical Engineers, is also a member of the Institute of Energy, the Institute of Petroleum, and the Society of Petroleum Engineers. He is a graduate of the University of Leeds, England, where he obtained a BSc in Fuel & Combustion Engineering in 1975, an MSc in Combustion, Energy & Explosion Studies in 1977, and a PhD in Fuel & Energy Engineering in 1980, specialising in alternative liquid fuels.

Kombo Braide has varied interests, ranging from alchemy, physics, extraterrestrials, alternative history, conspiracy theories, futurism, science fiction, cartoons, lateral thinking, propaganda, and music.

He writes with some concern for objectivity, enlightenment, and a compulsive desire to generate argument, and controversy, within the limits of reason. He is not a member of any political party on Planet Earth. In fact, he is deliberately ideologically non-Euclidean: neither right, nor left, nor centre. He takes delight in observing what he calls Nigeria's "culture of compliant complacency", with its tendency to reduce even serious issues to unproductive nihilistic arguments, cynicism, gibberish, and diametric opposition for its sake.

Article continues