People from Zimbabwe and Zambia explain their energy needs in their own words, and how access to energy could make a real difference to their lives. The videos are available in Windows Media (.wmv) and MPEG format. The messages are short, but they speak for themselves: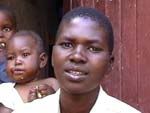 Yeukai Meki
Electricity would allow Yeuki and her family to run a refrigerator and store goods for re-sale.
Windows Media
|
MPEG
Kennedy Mutsvairo
Electricity is the key to improving living standards, helping with cooking, lighting and small industry.
Windows Media
|
MPEG
Lipian English
The carpenter's main problem is finance, but electricity would also help his business.
Windows Media
|
MPEG
Fremont and Maureen Mangubi
With electricity, this farming couple would be able to expand into poultry-rearing and welding.
Windows Media
|
MPEG
Courtesy of
Practical Action
.
ethanol :: biodiesel :: biomass :: bioenergy :: energy :: sustainability :: poverty :: development :: Africa ::
Article continues