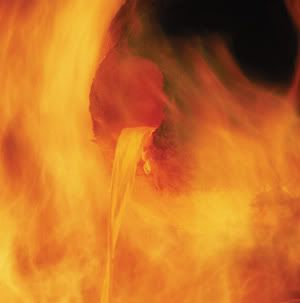 In the race to slash greenhouse emissions from making iron and steel, charcoal is making a come-back.
Wood has been used to make iron for more than 3300 years and steel for almost 1000 years, and in the 21st century its time may have come again. Iron and steel consume a whopping 19 per cent of the world's industrial energy and generate 26 per cent of industrial greenhouse emissions, representing six per cent of total anthropogenic greenhouse emissions. So the hunt for alternative processes and cleaner fuels is accelerating.
Japan's low-temperature compact blast furnace and Europe's
ULCOS (ultra-low CO2 steel)
[*pdf > zip] nitrogen-free furnace are among the radical approaches being trialled to lower the carbon intensity of ironmaking. Australia has the HIsmelt continuous ironmaking process undergoing promising commercial trials.
The quest for cleaner fuels and reductants (reducing agents) has thrown the spotlight on a major new resource: oil mallee trees or other native hardwoods, grown in plantations and turned into charcoal. Western Australia alone is expected to produce 10 million tonnes of wood a year in the longer term as the battle to save the landscape from salt escalates.
Among the many products of oil mallees – oils, solvents, particleboard, quality timber, electricity and activated charcoal – a major opportunity appears to exist in producing charcoal for making iron and steel, say Dr David Langberg and Roy Lovel of
CSIRO Minerals
.
"Charcoal is highly reactive and very low in pollutants such as sulfur, nitrogen and ash, compared with coke," says Mr Lovel, who has been involved in testing charcoal for sintering iron ore. It burns faster, making the sintering process more productive, so enabling sinter plants to keep pace with the hunger of ever-bigger blast furnaces.
Best of all, it is greenhouse neutral: CO2 liberated in the sintering process is absorbed by the next crop of growing trees:
ethanol :: biodiesel :: biomass :: bioenergy :: biofuels :: energy :: sustainability :: charcoal ::

"Charcoal production used to be thought of as a dirty industry, but nowadays it can be produced hygienically in as little as five minutes," Mr Lovel says. "Wood char can be used directly in sintering, where our research indicates it can be more effective than coke."

Oil mallees are not the only sources of char for making metal – farm and forestry wastes of various kinds, sawmill waste, paper and cardboard, biosolids, weeds and scrap building materials are all possibilities. And char can be used as an alternative to coke and coal in a range of metallurgical processes such as slag fuming, bath smelting, synthetic rutile production and ore sintering.

"We've found that mallee charcoal performs as well as coal as a reductant in small-scale tests simulating the molten metal and slag bath process such as that used by HIsmelt," Dr Langberg says. "It has the same advantages as in sintering – low sulfur, nitrogen and less ash.

"Even when you take account of the energy used in growing, processing and transport, you still produce around 65 per cent less CO2 for every tonne of iron. Potentially, bath-smelting processes for ironmaking could run entirely on charcoal as the fuel and reductant and achieve a dramatic reduction in the environmental impact of ironmaking."

The idea of using the answer to one environmental threat – salt – to help mitigate another – greenhouse – has a certain elegance that appeals strongly to the CSIRO team.

"The chief obstacle is cost," Dr Langberg says. "Two years ago charcoal was more than twice the cost of coal. But coal prices have risen and as mallee plantings grow, the price of char may fall. Also, we are now using 'cheaper cuts' – the leaves and twigs of mallee trees – to reduce the cost."

The work on mallee charcoals has been a collaborative effort between CSIRO Minerals, Ensis (a joint venture between CSIRO and New Zealand's Scion), the Centre for Sustainable Resource Processing, the WA Department of Conservation and Land Management and the Cooperative Research Centre for Plant-Based Management of Dryland Salinity.

While WA is the heart of the oil mallee action, similar opportunities are also opening up in New South Wales, South Australia and Victoria – and throughout the Murray-Darling Basin. Regional centres such as Port Pirie, Werribee and Port Kembla are being scrutinised by the CSIRO team as potential sites for charcoal metallurgy, as they combine local agriculture and forestry industries and smelters that can use the char.

Another opportunity for charcoal lies in the compound pellets of iron ore and carbon that are the ingredients for the new direct-reduction ironmaking processes. It can also be used as an additive in electric arc furnaces. By injection as a pulverised fuel, it can even replace up to 20 per cent of the coke used in a blast furnace, in order to reduce greenhouse emissions from conventional ironmaking.

Iron and steel are not the only opportunity for biomass char, Dr Langberg says. "We've also found considerable advantages in using charcoal as an iron reductant in the rotary kilns used for processing synthetic rutile.

Besides being clean, the charcoal should enable the furnace to operate at a lower temperature and achieve a higher throughput, which are positive advantages."

Despite 3000 years of ironmaking, people are still finding new ways to combine carbon and metal. The latest revolution, with Australia at the forefront, uses renewable sources and promises to be the cleanest and most efficient yet.

Article continues