Venezuelan president Hugo Chávez presented four integration projects before the
African Union summit
that closed Sunday in Gambia. One of Chavez's
propositions
is the creation of a commission to promote an energy strategy to extend the integration project of Petrosur to African nations, including the oil, gas and petrochemical sectors. He said through "Petrosouth", as the initiative has been dubbed, the leaders would harness the power of oil, which he called a powerful instrument for social development, to develop their peoples.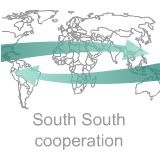 "It was used by the colonialists (to oppress us). We are now going to use it to liberate our peoples," the President said. He recalled Venezuela has one of the largest oil and gas reserves in the world and has recovered the handling of its petroleum industry, while Africa, he said, has about 15 per cent of the world's fuel deposits and gets 'ripped off' by Western oil companies, calling those of the US 'Count Dracula'.
The head of state of the South American nation rendered the speech during the inaugural ceremony of the summit where 50 African heads of government are participating to focus on regional integration. Much to the despair of Western diplomats, the
AU invited some of the world's staunchest anti-American leaders
, amongst them Iranian president Ahmedinejad.
Professor Shadrack Gutto, present at the Summit explains Chavez's presence: African countries were eager to hear about Chavez's policies toward Western oil companies. "Chavez has taken quite a radical line with regard to claiming national sovereignty over natural resources and that resonates with a lot of African countries emerging as substantial producers," Gutto said. He said African producers were anxious to ensure they maximised the benefits of their resources and were not being short-changed in contracts with Western oil companies.
More information:
"Chavez Presents Integration Projects in African Summit", Prensa Latina.
"Chavez proposes South-South cooperation at AU summit", AngolaPress.
Article continues