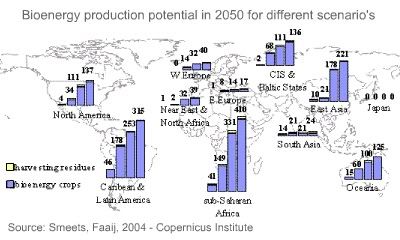 We recently started our series on the biofuels and bioenergy super powers of the future, starting with Congo (
earlier post
), saying that they might create a new global energy paradigm, with very different power relations than those formed by the petroleum-based global political system (which has led to wars, terrorism and economic crises).
It is interesting to see, in this respect, that several major think tanks are indeed following us and are starting to study the "geopolitics of biofuels", just like they used to study the geopolitical consequences of our oil-fuelled world.
The highly influential European think tank
Clingendael Institute
, has just recently released such a first study, entitled
Future fuels and geopolitics: the role of biofuels
[*.pdf].
These are its main findings:



First it notes why energy (in)security will become ever more important in global politics:

* it drives our economies
* energy import dependence is growing in all major economies, most notably in China and the EU (and to a less extent the US and India)
* this dependence is based on an ever smaller number of oil and gas producing countries
* the transition to other fuels takes time, and the pressure is building



There are a growing number of factors which cloud a secure energy supply:

* decreasing domestic production
* increased imports
* choke points in trade routes
* competition with new economies (China, India)
* limited capacities to diversify the energy portfolio
* concerns about political stability in producing nations


The options for change are diverse, but two main ones will have to close the potential energy gap facing many countries: energy conservation and efficiency on the one hand, and a radical transition to bioenergy and biofuels on the other hand.

Bioenergy is the key to increase energy security for several reasons:

* part of it can be produced locally
* imports will diversify the portfolio and reduce dependence on oil and gas
* scientific and technological developments are speeding ahead
* many countries have already implemented trade and strategic mechanisms and targets
* liquid biofuels are the only viable alternative transport fuel; batteries and hydrogen are not able to compete and require a new infrastructure and an entirely new transport fleet



The potential share of "first generation" bioethanol (based on sugar and starch directly derived from dedicated crops) is projected to be 6% by 2020; but developments in cellulosic ethanol promise to increase that share considerably.

Bioenergy promises to bring a shift in the geopolitics of energy. Regions with a high production potential are set to become oil and gas independent, and green fuel exporters, while those with limited potential are set to suffer under increasing oil and gas import dependence.
Looking at the assessment of global biomass and bioenergy production potential in 2050, published by the IEA Bioenergy Task 40, we can highlight the winners and the losers:

* Sub-Saharan Africa holds the greatest bioenergy production potential
* Followed closely by Latin-America and Russia.
* The EU and the US are ranking in the middle of the pack, and might become biofuel importers.
* Whereas in Asia the situation is much more complex: East Asia with China, holds considerable potential, in contrast to Japan, which has none whatsoever. South East Asia, including India, cannot produce enough given its rapidly increasing population.
* Australia and the Pacific Islands will become big exporters, since they will be able to produce nearly 6 times as much bioenergy as their entire future energy needs.
* The biggest loser is of course the Middle-East, with its sandy deserts that never see a drop of rain. But then the Middle-East does not really need bioenergy to secure its own energy needs.



The report concludes by saying that Africa and Latin America will find that the global shift towards biofuels and bioenergy offers a fantastic opportunity to produce for a global market and derive power from this trade, whereas bioenergy-deprived countries, such as Japan will have to choose between competing over ever scarcer hydrocarbon reserves, or creating energy deals with green super powers.


By Laurens Rademakers.
Article continues