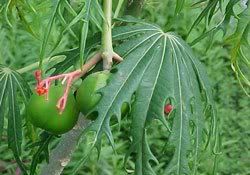 Jatropha curcas is an interesting biofuel crop. We have already written a great deal about its drought-tolerance, its environmental benefits, its excellent oil properties and its capacity to grow on degraded land. We have also analysed a company's global push for the crop.
President Arroyo of the Philippines has understood the potential of the plant and on Saturday she "ordered" the Department of Energy to widen the propagation of Jatropha. Field trials in military camps had already proved that the small drought-tolerant bush makes for an easily manageable energy crop and now the President's executive order demands that Jatropha must be planted in all available public lands.


The President issued the directive to Energy Secretary Raphael Lotilla when she inspected the 35-hectare Jatropha plantation inside Fort Magsaysay here.

The President asked Lotilla to coordinate with the local government units and even private agencies by urging them to plant more Jatropha trees in their unused lands.

The best alternative fuel

"Jatropha is the best alternative fuel and we need to propagate it," she pointed out, adding that Jatropha is easy to plant and grow even without fertilizer.

The President arrived here in her helicopter about 9:30 a.m. to inspect the propagation of Jatropha trees inside Fort Magsaysay.

She congratulated the Northern Luzon Command (Nolcom) chief, Maj. Gen. Romeo Tolentino, and his men for helping the government in its campaign to ease the country's dependence on imported crude oil.

The President toured the nursery where the seedlings of fruit-bearing trees and Jatropha were being grown.

She then inspected the 35-hectare Jatropha plantation and showed to the media the fruits of a seven-month-old Jatropha tree.

During the inspection, Tolentino introduced and demonstrated to the President the backhoe type and portable digging machine that he invented. Tolentino said the backhoe type machine he invented can dig 1,000 holes per hour while the portable digging machine can dig 100 holes a day.

The Nolcom is the first military command to comply with the President's order to plant Jatropha trees.

Lotilla and Presidential Assistant for Central Luzon Rene Diaz accompanied the President in her visit.

Lotilla informed the President that the country needs at least 100 to 200 hectares of Jatropha plantations to be able to start production of Jatropha diesel.

He assured the President that his office is now studying the possibility of building the country's own Jatropha processing plant. So far, only India and Germany have processing plants for Jatropha seeds.

Jatropha is a drought-resistant perennial shrub or tree that has an economic life of up to 35 years and can live for 50 years.
Manila Times.
Article continues