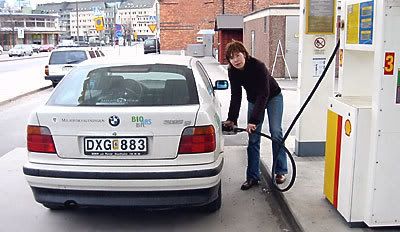 Europe is experiencing a real boom in the use of biogas for transport. According to an EU well-to-wheel study of more than 70 different (fossil and renewable) fuels and energy paths - including hydrogen from wind, solar or nuclear -, biogas is the cleanest and most climate-neutral transport fuel of them all (
earlier post
). Given the expectation that carbon prices will explode in the coming years, the clean green gas is attracting major investments as an alternative to fossil fuels.
The gas, which is obtained from municipal, industrial or agricultural organic waste, holds tremendous potential, both in Europe (where it
can replace a large amount of natural gas imports from Russia
), and in the developing world (with
India having interesting plans for biogas
). Using innovative technologies, the green fuel can be purified to natural gas standards, and mixed into the natural gas grid (
earlier post
), with several countries already doing this. Other European countries and companies are rapidly building infrastructures to use the gas as an automotive fuel (
an example from Germany
, and one from
Austria
) with some companies building real biorefineries around it which result in green specialty chemicals and products such as biopolymers and plastics (
example from Austria
). More and more, specially bred dedicated biogas crops - such as
Sudan grass hybrids
,
Sorghum
or
biogas maize
- are being planted for the production of the green fuel.
Biogas from wood chips, more efficient than cellulosic ethanol
Sweden, Europe's leader when it comes using renewables (the country generates
28% of all its energy from green sources
) is now taking the development of biogas as a transport fuel a step further. Anders Hedenstedt, CEO of
Göteborg Energi AB
, wrote the following
letter
to Euractiv, a main EU news source: "In Gothenburg, biogas is produced locally by digestion of sewage waste, providing the equivalent of 4000 passenger cars with a fuel that is cleaner than petrol, or any other biofuel.
Now Göteborg Energi is taking biogas production to the next level. By gasification of low-grade biomass such as forestry residues, we can produce biogas in much greater quantities. Our aim is to build a biomass gasification plant with a capacity to produce enough biogas for 75,000 cars. We will convert wood chips into methane with 70% efficiency:
biomass :: bioenergy :: biofuels :: energy :: sustainability :: wood :: methane :: biogas :: natural gas ::

We plan to have the plant in operation by 2011 at a cost of roughly €150 million. Since the technology employed is untested on this scale, we are depending on government or EU funding.

Public awareness of biogas as a fuel for vehicles is crucial for our success in this project. Of course, biogas could be used for many more applications than for vehicles. But we are convinced that the transport sector will play a key role as a driver of new technology, because the willingness to pay in this sector is high, and that there is a very real opportunity for consumers to individually contribute to a more sustainable society."

Several studies indicate that, using a combination of substrates (from dedicated energy crops) that are co-fermented, biogas yields much more useable energy than cellulosic ethanol. The bioconversion process is far more efficient. But the large-scale use of the green gas has one major disadvantage, in that one needs dedicated cars, similar to CNG-vehicles, to use the fuel.



More information:


Trendsetter-Europe, the information source on sustainable trends in urban mobility in the EU, has a range of interesting articles on biogas as a transport fuel.