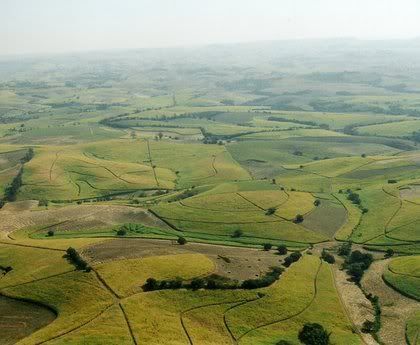 The South African cabinet has unveiled a first draft of its long-awaited bioenergy strategy. The country has set itself some very ambitious targets: it wants biofuels to contribute up to
75 percent
of its renewable energy needs by 2013 under a 6 billion Rand programme.
This is good news for sub-Saharan Africa as a whole. South Africa is the economic giant on the continent and other countries often follow in its tracks on important development issues. Since the bioenergy sector touches a large number of policy fields (labor, land, agriculture, energy, capital and trade), South Africa's choices may determine those of other African economies.
The bioenergy strategy's main elements were summarised as follows by Government spokesperson Themba Maseko who addressed parliament and the media simultaneously:
The programme is designed with the explicit foresight that it will not require "excessive support" nor hit food security. It comes as volatile oil prices combined with a global drive to limit greenhouse gases forces governments to look at alternative energy sources.

South Africa envisages that biofuels will create jobs, particularly in the agriculture sector which is under pressure as it comes to grips with post-apartheid liberalisation and global competition.

The biofuels industry has the potential to create 55,000 agricultural jobs and will contribute to reducing greenhouse gases and promote a cleaner environment.

The proposed strategy will see South Africa, which produces a surplus of sugar and maize crops, use the excess to manufacture bioethanol. Expanding energy crop production on under-used arable land, particularly that of emerging farmers, is another aim.
The required capital investment will be approximately 6 billion Rand (€650/US$850 million) which will come from both public and private sectors:
ethanol :: biodiesel :: biomass :: bioenergy :: biofuels :: energy :: sustainability :: development :: South Africa ::

Brazil, a strategic partner in trade relations with South Africa, is being touted as an example to follow because of its successful biofuels industry.

A policy taskforce, partly sponsored by the European Union, will review the draft strategy before it is submitted for finalisation in May 2007.

The draft comes as South Africa's Ministry of Minerals and Energy has set new fuel standards, including those regulating biofuels and the ratio's at which they may be mixed into diesel and gasoline.

Last month, South Africa hosted the first-ever Biofuels Markets Africa conference (earlier post).



More information:



IOL South Africa: South Africa approves push to develop biofuel - Dec. 7, 2006
Business Africa Online: SA approves $850mn draft biofuels strategy - Dec. 7, 2006
iAfrica: Biofuels get govt green light - Dec. 7, 2006