The EU's strategy of using biomass for energy is beginning to pay off. According to EurObeserver's yearly
Solid Biomass Barometer
[*.pdf/French and English], in 2005 primary solid biomass production for energy in the EU increased markedly with 3.1 million tonnes of oil equivalent (Mtoe) compared to 2004. The increase in the price of fossil fuels and the necessity for politicians to take environmentally sound decisions has had positive effects on the biomass sector in 2005. The biomass market in Europe is maturing, which means the gates are opening for developing countries to export to the EU. The Barometer also points at the reasons behind the successful national policies and technological innovation that has resulted in the strong increase in the use of solid biomass for energy (see below).
In 2004, primary solid biomass in Europe was 55.6 Mtoe, rising to 58.7 Mtoe in 2005. Using the term 'solid biomass', the barometer monitors the production of wood and wood waste, but also straw, crop harvest residues, vegetal and animal waste, all used for energy. Production of primary energy coming from direct combustion of renewable municipal solid waste in incineration plants is added separately to this figure. The 0.2 Mtoe increase in this production with respect to 2004 brings valorisation of this type of waste up to 5.3 Mtoe in 2005.
The leading biomass fuel is round woods, which are essentially consumed by households with a 46.1% share of the solid biomass market. Second are black liquors (a recycled by-product from the papermaking industry) with a share of 22.2%, followed by timber waste with 20.8%, other non-urban organic waste and vegetal matter with 9% and wood pellets with 1.8%.
France is the leading European producer of solid biomass with a total production of 9.7 Mtoe in 2005. But Finland, Sweden and Latvia produce the most solid biomass per inhabitant.
The fastest growing market can be found in the Netherlands where biomass use for energy showed an increase of 57.7%. The Netherland's massive growth is mainly driven by biomass imports from non-EU countries, mainly in the developing world and Canada. In Hungary growth equalled 35.5% and Germany showed an equally strong increase with 28.8% (
see table
).
Double-digit growth for electricity from biomass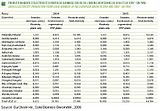 Electricity production from solid biomass has increased markedly between 2004 and 2005 with a growth of 16.1%, according to the report mainly due to the establishment of combined heat and power (CHP) plants in Germany and the Netherlands. The development of fossil and biomass co-combustion in electrical power plants in the United Kingdom also contributed to this. Finland is the leading European producer of biomass electricity with total of 10.2 TWh produced in 2005.
The EU's total electricity production from biomass now stands at 44.1TWh:
bioenergy :: biofuels :: energy :: sustainability :: fossil fuels :: wood :: waste :: combined heat-and-power :: biomass :: Biomass Action Plan :: European Union ::




Municipal solid waste


Direct combustion of municipal waste remains the principal means of treating household waste. Incineration plants thus make it possible to produce heat and electricity as a thermal power plant running on more "noble" fuels would do. It is not always possible to precisely distinguish the organic share of municipal solid waste which, alone, can be qualified as renewable. According to estimates made by different countries, this renewable share generally represents one half.

Primary production of renewable municipal solid waste (that is to say other than the production of biogas) in the EU is estimated at 5.3 Mtoe for the year 2005 (table 5), i.e. a slight increase with respect to 2004 (+ 0.2 Mtoe). Just like solid biomass, this waste is valorised in the form of heat and/or electricity in incineration plants in CHP operation or not. In this way, the EU produced 10.7 TWh of electricity in 2005, recording 6.7% growth with respect to 2004. The largest share of this production comes from CHP units (6.9 TWh in 2005), where production has grown by 7% with respect to 2004. Valorisation in the form of gross heat is easier to monitor
for municipal solid waste than for solid biomass because it comes from centralised production units that actively market the heat they produce.




Sweden's green certificates system


Solid biomass represents one fifth of Sweden's energy supply, where it meets approximately 50% of needs in heat, especially for the forest industry, heating networks and the heating of private households. It currently covers 4% of electricity production.

Primary production of solid biomass was estimated at 7.9 Mtoe in 2005, i.e. 6.3% growth with respect to 2004. Sweden is the leading EU country for marketed heat production, with 2.1 Mtoe, including 1.4 Mtoe coming from CHP units. These same combined heat and power units have also produced the totality of the electricity coming from solid biomass, i.e. 6.9 TWh in 2005, representing a 3.9% growth rate with respect to 2004. Electricity production should continue to increase thanks to the reinforcement, beginning next January, of the green certificates system that has been in place since 2003. In the new law approved by the Swedish Parliament, the objective of the certificate system is to increase renewable electricity production (all sectors) by 16 TWh between 2002 and 2016 (i.e. 12 TWh between 2007 and 2016).

Moreover, the obligation of production quotas shall be transferred from the user to the electricity supplier in a concern for simplification and cost reduction. And, in order to provide more visibility for investors, the system shall be prolonged until 2030. The Swedish government is also seeking to develop biomass heating in the domestic sector. But the great majority of Swedish housing is equipped with electric heating and is not designed to accommodate a boiler connected to a central heating system. Current growth of wood pellet burning boilers (approximately 8 000 units sold last year) is therefore organised in the direction of housing that already has central heating systems running on gas or heating oil.




Success of tax credit and Wood Energy Plan in France


France (including the French overseas departments) continues to be the leading solid biomass producing country with production in the region of 9.7 Mtoe. It should be pointed out that a very sizeable share of this total (7.4 Mtoe) is intended for domestic heating. This sector has been boosted by the introduction of a 40% income tax credit in 2005 and is currently in full upward swing with the sale of approximately 430 000 heating appliances in 2005 (i.e. an increase of 23.6% in 2004). The income tax credit, which was raised to 50% in 2006 and will be valid up until the end of 2009, should maintain very steady and buoyant growth for this market in the coming years.

The goal of this tax policy, which takes over from ADEME's 2000-2006 Wood Energy Plan, is to accelerate the replacement of existing equipment by higher yield heating appliances (greater than or equal to 65%). The creation of a "green flame" label for heating appliances with high yields has also been a driving force in this sector's development. Concerning the collective and industrial sectors, ADEME's 2006 assessment shows that Wood Energy Plan objectives have been or are in the process of being reached. 1 398 boiler plants were installed between 2000 and 2005 out of the 1 000 planned on at the end of 2006. In terms of substituted energy, only 43 ktoe is still lacking to successfully reach the 300 ktoe objective set for the end of the year 2006. A new French government-ADEME plan contract, which shall very certainly result in a new biomass plan, is currently under discussion.




Germany developing biomass CHP


Germany's primary production of solid biomass went from 5.2 Mtoe in 2003 up to 7.9 Mtoe in 2005, i.e. a 51.4% increase in two years. This spectacular growth can be explained principally by the revision of the German law on renewable energies (applicable since April 2004). Re-evaluating the conditions of electricity production from biomass, the new law has permitted this to go from 1.5 TWh in 2003 up to 5.4 TWh in 2005. The pricing re-evaluation is made by adding the subsidies linked to the types of biomass (from €25/MWh to €60/MWh) to the use of innovative techniques and procedures (20€/MWh) and to the CHP production method (€20/MWh).

This last point explains that the totality of the electricity produced from solid biomass comes from combined heat and power units. The Ministry of the Environment also finances heat production units at €60 per kW (for systems with yields greater than 88%) or through a minimum subsidy of €1700 for a system whose yield is greater than 90%. Finally, reduced interest rate loans are available for private individuals who want to equip themselves with biomass boilers. It is interesting to note that the market of wood pellet burning boilers designed for domestic heating is fast expanding in Germany. According to the DEPV ("German Pellet Energy Association"), this type represented 45% of the 39 000 biomass boilers sold last year vs. 30% of the 23 000 boilers sold in 2004.



Wood pellet market overheating in Austria


2005 was an exceptional year for heating installations operating on biomass (all sectors) with a newly installed capacity of 1 136 MWth, i.e. market growth of 59.4% with respect to 2004. All types of boilers and heating appliances benefited from this growth. Out of the 23 319 new installations sold in 2005, there were 4 530 wood-burning boilers of capacities lower than 30 kW (+ 24.2%), 1 548 wood-burning boilers with capacities greater than 30 kW (+ 70.3%), 8 874 wood pellet burning boilers (+ 46.0%), 3 780 wood pellet burning heaters (+ 66.5%) as well as 4 587 boilers that burn wood chips and bark (+ 40.4%).

Among these last types, there were 78 installations of more than 1 MW totalling an installed capacity of 336.5 MWth. The first market indications this year show that growth shall be measured, notably for appliances that burn wood pellets. The sharp interest and attraction for this type of fuel has led to a rise in the price of a ton of wood pellets, which went from €178 in December 2005 up to €265 in October 2006. The wood fuel production industry needs a little time to deal with sector growth. Production of primary energy from solid biomass only increased (if it can be put that way) by 7.9% between 2004 and 2005.


The Solid Biomass Barometer further breaks down the EU's sector into the size of the producers (household level, small and medium power generation and large, utility-scale biomass power). It also looks at the wood pellet market and how it is fuelling a renaissance of heating in stoves, at the household level.


According to the Biomass Action Plan, the EU technical potential in 2010 is about 185 Mtoe. With present policies, the European Commission estimated that the consumption in 2010 could reach approximately 150 Mtoe. EurObserver however, forecasts that biomass primary energy consumption will amount to 103.7 Mtoe in 2010, considerably below the projections contained in the Biomass Action Plan.

EurObserver's next Barometer deals with wind power.