Quicknote bioenergy policies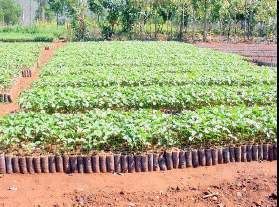 The Senegalese government has been very active in promoting biofuels to cut the country's heavy dependence on expensive oil. President Abdoulaye Wade led the creation of a
'Green OPEC'
which unites African non-oil producing countries, with the aim of improving energy-security and to create a continent-wide biofuels industry. Senegal also sees biofuels and the jobs they bring as a way to revive the rural economy and to curb the flow of clandestine migrants from the country-side to Europe (
earlier post
). A national biofuels plan figures as a component of the country's REVA programme ('Retour Vers l'Agriculture').
More details have now emerged on this plan. Farba Senghor who manages it has
announced
that the state will distribute 250 million
Jatropha curcas
saplings to smallholders who will grow the crop, the nuts of which yield an oil suitable for the production of biodiesel. Jatropha is a drought-tolerant shrub that is well known in West-Africa, where it has been used traditionally as hedges to protect fields against grazing animals.
In theory, if all the plants were to produce their estimated average oil yield of 1500 liters per hectare, the initiative would result in a whopping prodution of 375 billion liters of biofuel per year, or 6.46 million barrels of oil equivalent
per day
. This would make Senegal entirely petroleum independent, a major oil producer and even exporter worthy of OPEC membership! Of course, these are theoretical yields that can only be obtained under the most suitable circumstances. Still, it seems like Senegal is taking the matter of energy independence through biofuels extremely serious.
Senghor says that the energy plantations will better the lives of the country's rural masses, by diversifying the range of products they produce. Besides producing biofuel feedstocks, the farmers will be able to develop other industries based on byproducts (glycerine), such as soap and detergent production. A Senegalese delegation of the newly created "Ministry for Agriculture, Biofuels and National Solidarity" recently visited neighboring Mali, to learn more about ways to integrate jatropha farming with other industries. Besides jatropha, Wade's biofuels programme will rest on other crops such as sugar cane for the production of ethanol.
Recently, the United Nations Conference on Trade and Development held an international workshop in Accra, Ghana, aimed at studying the financial and management aspects of large-scale jatropha production in West-Africa (
earlier post
). In an exemplary show of South-South solidarity, the Indian government pledged to help establish a fund aimed at promoting biofuels in West-Africa, by contributing US$250 million (
earlier post
). India itself has considerable experience and expertise with large-scale production of Jatropha oil [entry ends here].
ethanol :: biodiesel :: biomass :: bioenergy :: biofuels :: energy :: sustainability :: energy dependence :: energy security ::jatropha curcas :: Senegal ::