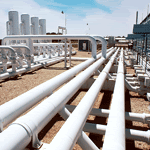 Today sees the start of operations at the Pliening biogas plant, one of the largest of its kind in Germany. Following the official approval by inspectors, the facility located near Munich will
start feeding refined biogas into the German natural gas grid
[*German] on an industrial scale. The project was realised jointly by Schmack Biogas AG, the world's leading biogas plant designer, and planning firm Renewable Energy Systems. Financing has been provided by the Aufwind Schmack Gruppe. E.ON Bayern will be the offtaker of the gas. The €9.8 (US$12.9) million investment marks the completion of the first reference project for feeding biogas into the German grid.
Ulrich Schmack, member of the Managing Board of Schmack Biogas AG, earlier provoked controversy in Germany when he said that locally produced biogas could substitute
all
Russian natural gas imports by 2030. He said so as a high representative for renewable energies to the German government (
earlier post
).
On the unique Pliening project, Schmack comments: 'Particularly where large biogas plants are concerned, the future lies in feeding gas into the grid, thereby substituting expensive natural gas imports. This is also reflected in the strong interest in such plants shown by major energy providers and local utilities. We produce biogas from locally available resources and convert it into electrical energy and heat where this can be done most efficiently, particularly through effective recovery of waste heat, which results in optimum energy utilisation.'
Europe's developments on the biogas front go further than using it as a source for the generation of electricity and heat. More and more countries are starting to use the green gas as an automotive fuel (compressed biogas, CBG, used like CNG). The capacity to feed biogas into the grid takes this future sustainable and green mobility paradigm a step further (
earlier post
, see also
Sweden's ambitious biogas project
).
The Pliening project's great strategic importance derives from the fact that it represents the first-ever industrial facility capable of refining biogas to natural gas standards within economic parameters. In contrast to normal biogas, which usually has a methane content between 40 and 60 percent, the purified and refined biogas has a methane content of 96 percent, thereby meeting natural gas standards:
biomass :: bioenergy :: biofuels :: energy :: sustainability :: biogas :: biomethane :: natural gas ::pipelines :: Germany ::

The purification and refining technology is provided by CarboTech Engineering GmbH. Recently acquired by Schmack, this Essen-based company has developed a proprietary gas purification and refining process which is considered to be the industry-leading technology.



Feeding biogas into the natural gas grid - the potential


According to estimates by the Fachverband Biogas e.V. industry association, biogas could substitute as much as 20% of Germany's natural gas consumption. In 2006, the association declared: 'The purification of biogas to natural gas standards and its distribution in the form of biomethane through the existing grid will be key processes driving the biogas technology'. Feeding biogas into the grid allows its full potential to be realised - both in terms of efficiency and local availability. In both regards, biogas enjoys clear advantages over most other renewable energies.

The amendment of the German Energy Industry Act opens the natural gas grids to third-party feeders, which could potentially usher in a development similar to the one seen in the electricity market following the opening of the power grids mandated by the Renewable Energy Sources Act (EEG). Biogas networks are already in place in Scandinavia and in Switzerland. Austria's first pilot plant for feeding biogas into the grid was started up in 2005; this facility was built by Schmack which remains in charge of the technological management.

The Biogas plant in Pliening near Munich produces some 3.9 million cubic metres (137.7 million cf) of biomethane per year, which is equivalent to the annual natural gas consumption of 1,300 4-person households.

Schmack Biogas has so far installed some 160 plants of different sizes with a nominal electrical output of roughly 36 MW. The company's activities focus on the German market. Apart from Germany, Schmack Biogas is currently also interested in the Italian, Dutch and US markets. Schmack Biogas AG has been listed in Deutsche Börse's Official Market / Prime Standard since May 24, 2006.