Quicknote bioenergy science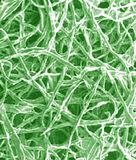 Soon, men and mice won't be the only beneficiaries of the diagnostic wonders of computerized tomography (CT). US Department of Energy officials
say
researchers at the
Oak Ridge National Laboratory
are developing ways to use a computer tomography machine originally designed to scan small laboratory animals to analyze wood, with potential applications in the pulp, paper and nascent bioenergy industries.
Oak Ridge National Laboratory researcher Justin Baba is working to develop analytical tools to determine parameters such as fiber length and arrangement, cell wall thickness and density from CT scans. Those scans could replace more destructive, chemical-dependant, methods of analyzing wood samples that currently compromise the information collection process.
For bioenergy, after some basic measurement standards are established, Baba says the scans will be able to show the cellulosic content of wood, which will help create a cellulose-based biofuel industry. Cellulose forms the primary cell wall of green plants, whereas the secondary wall contains both cellulose and lignin. In the form of wood, lignocellulose is thought to be the most abundant biopolymer on earth. Considerable research and funds are currently being invested in finding ways to convert this abundant material into liquid fuel, via an enzymatic breakdown process (Image:
cellulose structure as seen through an electron microscope
, credit: Nature) [Entry ends here].
biomass :: bioenergy :: biofuels :: energy :: sustainability :: cellulose :: wood :: cellulosic ethanol ::