Quicknote bioenergy potential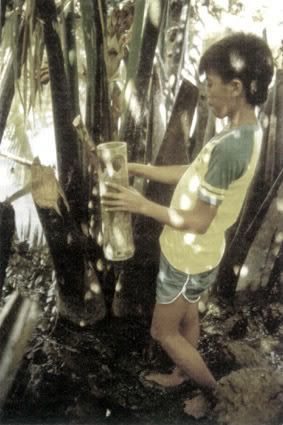 More details have emerged on the interesting Nypa project in Malaysia's North-Western Perak State (
earlier post
). Malaysia's national news agency,
Bernama
, refers to Perak governor Datuk Seri Tajol Rosli Ghazali, who says the state is expected to earn 328 million rupiah (€69.4 million/US$92 million) in royalties from the bioethanol project, each year.
He said the royalty will be paid to the state government by a company that will produce ethanol from Nypa fruticans palms that will be planted on 10,000 hectares of state land in the Hilir Perak district. This is the first time Nypa will be used as a feedstock for bioethanol.
"We have so much nipah forest along the state's coastal areas, at last 35,000 hectares," the state governor said. At an estimated yield of 15,000 liters of ethanol per hectare, if all the state's existing palms would be tapped, it is looking at an annual production of 525 million liters, the equivalent of 2.3 million barrels of oil. But interestingly, the project involves the planting of new Nypa palms, which indicates that plantation cultures are feasible.
Nypa fruticans, also known as nipah, attap chee, or simply as the mangrove palm can be found in large quantities in almost all tropical mangrove ecosystems in South-East Asia (Papua New Guinea, Northern Australia, Indonesia, the Philippines, Burma, India, Bangladesh, Thailand) and Africa (Nigeria, Mozambique, Tanzania and Angola). Of all mangrove plant species, Nypa is the most robust and easily colonises vast tracts of the ecosystem, threatening other species and damaging the biodiversity of mangrove ecosystems. Therefor, it is seen as an invasive, destructive palm. (For more in-depth info on Nypa, see the
chapter on Asia
in the excellent book
"Tropical Palms"
, of the Non-food Forest Products series published by the FAO).
The Malaysian state government adds that it has also approved an additional 400 hactares of state land as a site for bioethanol refinery, which is expected to cost 200 million rupiah (€42/US$56 million) and would be ready by mid next year. Malyasia's Prime Minister Datuk Seri Abdullah Ahmad Badawi is expected to officiate at the refinery's ground-breaking ceremony in April 2007. Last week, governor Tajol announced that Perak will be the world's first and so far only producer of bioethanol from the nipah tree.

Picture shows the traditional Nypa tapping technique as practised by mangrove communities in the Philippines, courtesy, FAO
[entry ends here].
ethanol :: biomass :: bioenergy :: biofuels :: energy :: sustainability :: Nypa fruticans :: nipah :: mangrove :: Malaysia ::