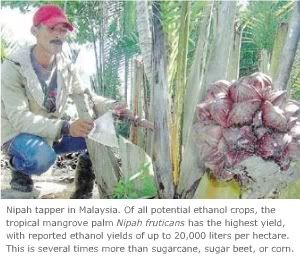 Several years ago, we started studying the use of a mysterious mangrove palm, called
Nypa fruticans
, for the production of ethanol. Meanwhile, we have been cooperating with a Nigerian NGO, located in the volatile Niger Delta, where the palm thrives and is seen as an invasive species. The goal of the project is to find ways to build a locally rooted ethanol industry around the crop, involving delta-communities who live in dire poverty. Earlier, we reported on the mysterious crop in an
introductory article
.
Nypa fruticans, also known as nipah, attap chee or the mangrove palm, is classified as an 'underutilized' crop, relatively unknown and lacking research, even though it has been used for ages in the tropics by mangrove communities. These communities tap the palm in a skillful manner to extract vast quantities of sugar-rich sap, that is used to make wine and vinegar. The leaves, fruits, stems and fibres of the palm are used for a variety of other purposes.
Very-high yields
The secret of nipah is its incredibly high sugar-rich sap yield, as it has been observed by several researchers. Fermented into ethanol, the palm's large amount of sap allows for the production of 15,000 to 20,000 liters of the biofuel per hectare (compare with sugarcane at 5000-8000 liters, or corn, at 2000 liters). And it does so on a continuous basis, year round, for up to 50 years. Typical for an underutilised crop from the tropics, nipah research is scarce and there have been very few plant-breeding attempts.
In a for us very interesting
announcement
, we learn that a Kuala Lumpur-based company, in coordination with local authorities and the state government, is going to utilize nipah as a feedstock for commercial ethanol production in Perak, Malaysia. A world's first. Nipah has a much higher yield per hectare than corn, sugar beets or sugarcane, says Perak Menteri Besar Datuk Seri Tajol Rosli Ghazali - local municipal chief.
"If we were able to produce ethanol from 110,000ha of nipah, it would be enough to satisfy the world's [current ethanol] demand," he says:
ethanol :: biomass :: bioenergy :: biofuels :: energy :: sustainability :: Nypa fruticans :: nipah :: mangrove palm :: Malaysia ::

He added that a project to produce ethanol would mean additional jobs, with nipah tappers earning between 3,000 and 4,000 (€635-845/US$845-1125) each a month.

The state government, after studying a proposal from the company, agreed to allow it to extract "nira" or nipah sap from 10,000ha of palms along the state's coastal area. Tajol Rosli said the state would also allocate 400ha of land in Perak Hilir district for a refinery.

"The company would be using home-grown technology to produce the ethanol after having discovered and patented a way to preserve the sap for up to three days instead of the usual six hours," he added.

He also said the company would begin construction of its refinery in April, which would be completed within a few years at a cost of between RM200 million and RM300 million (US$56-84 million).


We will be following these developments closely. Nipah grows in several developing countries where it has colonized thousands of hectares of mangroves and riverbeds. Exploiting this existing resource for ethanol production in a sustainable way may be a great strategy to provide extra income to mangrove communities, who often live in poverty.