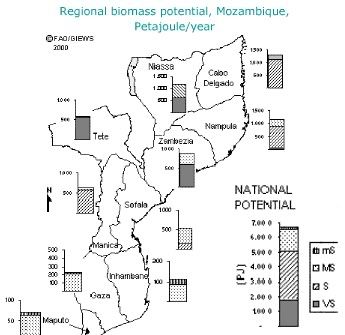 In a very interesting turn of events,
Mozambique Bio-Fuel Industries
(MBFI) and its Indian partners
announced
they are investing €800 million (US$1 billion) to generate bio-electricity in Mozambique. This is a major boost to the African country's rapidly growing economy, where energy needs are increasing sharply. The company is radically choosing for a smart, decentralised approach, utilising locally produced biomass in small, modular power plants. The company, supported by the Mozambican government, is collaborating with India on the project, showing once again that South-South cooperation strategies offer advantages in addressing crucial development problems. The EU too has several bioenergy-related initiatives in the country (
earlier post
).
Africa's potential for economic growth is limited by its inability to generate enough power, and this is exactly what would have impeded MBFI's core business activity which is to produce liquid biofuels such as bioethanol from cassava and biodiesel from jatropha. The company has therefor taken matters into its own hand and will be investing in green electricity generation using a paradigm in which distributed energy and decentralisation play key roles.
Decentralisation key to African context
Traditionally, when African countries plan to generate additional power, they tend to opt for a Western approach based on economy of scale models. This results in concepts where centralisation and large plants concentrated in urban areas get priority. Mr Steenkamp, CEO of MBFI, says most of these western solutions are not suitable for the African context because they do not address Africa's fundamental lack of infrastructures. Western approaches result in energy poverty for most Africans, and become push factors, driving people from the country-side to the cities.
"Therefore", Mr. Steenkamp says, "when we planned to produce biofuels on 3.5 million hectares in Mozambique, we never thought we were also going generate bio-power. But the cost to clear land, limited power capacity and the excess biomass forced us to consider alternatives. And to meet Mozambique's needs we decided to introduce many modular power units throughout rural Mozambique, instead of one large power plant."
Earlier, we referred to a case-study which shows that Mozambique - still very much an agrarian society - has a huge bioenergy potential, amounting to some 6.7 Exajoules, or 3 million barrels of oil equivalent per day, which it can generate in a sustainable manner (
earlier post
). Current per capita electricity consumption in the 20 million nation is around 365KWh per year (compare with France: 7585KWh - World Resources Institute,
Earthtrends database
.)
Mozambique Bio-Fuel Industries' research lead the company to look at another developing country, India, where it found extensive experience in modular bioenergy technologies:
ethanol :: biodiesel :: bioenergy :: biofuels :: energy :: sustainability :: power :: electricity :: development :: decentralisation :: poverty alleviation :: South-South :: India :: Mozambique ::

After many visits, MBFI announced that it has signed a Memorandum of Understanding (MOU) with Malavalli Power Plant Private Limited (MPPL) and CVC Infrastructure India to invest 800 million euros in Mozambique over the next ten years. The MOU provides for management and finance of modular five-megawatt biomass power plants throughout seven of the ten Mozambican provinces.

According to Mr. Steenkamp, "investors in Mozambique can, today, generate considerable profits, while at the same time, eradicate poverty. Investments can be made in biomass, bioethanol, biodiesel, and sustainable rural development in the fast growing economy of Mozambique".

We will be tracking this project very closely, as it offers a fascinating example of how large-scale bioenergy initiatives result in positive contributions to the economies of some of the least-developed countries, both on a very local, micro-economic, as on a larger, macro-economic scale.



More information:


Case-study on Mozambique's potential: Martin Junginger, André Faaij, Biofuel trade issues [*.pdf], Launching conference of the European technology platform for biofuels, Brussels, 8 June 2006.