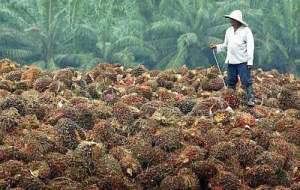 Fighting rural poverty by creating
2.5 million jobs
, dedicating 6.5 million hectares of land, replacing 10% of 245 million Indonesians' fossil fuel consumption by biofuels and exporting the rest. These are the key targets of OPEC member Indonesia's ambitious bioenergy plan. Earlier this month, the country indicated its intention to form a 'biofuel cartel' of sorts with neighboring Malaysia (
earlier post
).
A consortium of five state-owned and regional banks has now committed itself to providing the money to get the plan going. They will free up a total of 25.56 trillion rupiahs (€2.1/US$2.8 billion) in loans for the development of plantations across the country, including those producing biofuel feedstock. (
Earlier
, one individual bank had already taken the initiative to grant US$440 million to smallholders).
The banks
signed
the memorandum of understanding for the loan scheme with Finance Minister Sri Mulyani Indrawati, Coordinating Minister for the Economy Boediono, and Bank Indonesia governor Burhanuddin Abdullah. The loan commitment is in line with the government's program to revitalize the agricultural sector by developing the biofuel sector.
Subsidies for smallholders
Almost half of Inodesia's population works in the agricultural sector. Some 40% of all plantation outputs are carried by smallholders, that is farmers who own less than 2 hectares of land. Under the scheme, the banks will provide loans carrying an effective 10 percent fixed interest rate to these small plantation owners cultivating crops of oil palm, cocoa and rubber. The government will then provide them with a subsidy to cover any differences between the market lending rate and the fixed loan rate.
The subsidies will be provided over a period of five years for oil palm and cocoa plantations, and seven years for rubber plantations. The average lending rate is currently some 15 percent, but this is expected to fall in line with the central bank's recent rate cuts. Bank Indonesia's key rate presently stands at 9.75 percent.
In the 2007 budget, the government has set aside 1 trillion rupiah (€83.1/US$110 million) to cover the cost of subsidizing interest payments on agriculture-related loans and the cost of procuring seedlings, with another 12 trillion rupiah (€1/US$1.3 billion) being earmarked for improving agricultural infrastructure (
earlier post
).
Indonesia's peak oil
Even though Indonesia is still official Asia's only OPEC member, it's oil production has gone into decline steadily. The 245 million strong nation now consumes more oil than it produces. This is why the government has launched the vast biofuels program, for which it plans to designate up to 6.5 million hectares of idle land for the development of biofuel-feedstock plantations. The effort is aimed at producing enough biofuel by 2010 to replace 10 percent of the country's total oil consumption -- which reached 70 million tonnes last year (roughly 1.3 million barrels per day):
ethanol :: biodiesel :: biomass :: bioenergy :: biofuels :: energy :: sustainability :: poverty alleviation :: smallholders :: sugarcane :: palm oil :: jatropha :: cassava :: Indonesia ::


Indonesia has had a long tradition of subsidizing fuel for its people, but the policy has cost the state a lot of money, and with increased oil prices, the scheme is becoming untenable. Hence the shift towards subsidizing farmers; they can deliver a fuel that is less costly than fossil fuels.



Choosing the right crops


The Finance Ministry further said in a statement issued to mark the occasion that it planned to extend the interest subsidy to loans for the development of sugarcane and cassava plantations. A similar loan scheme would also be worked out for jatropha plantations. Jatropha was recently identified as the plant with the most biofuel potential in Indonesia. After a chemical conversion (transesterification), palm oil and oil extracted from the jatropha plant can be mixed with ordinary diesel as biodiesel, while ethanol made from sugarcane and cassava can be mixed with gasoline.

The follow-up credit schemes are expected to be finalized by January, with other banks outside of the present consortium likely to be invited to participate. Of the total money, Bank Rakyat Indonesia (BRI) will stump up Rp 12 trillion, Bank Mandiri Rp 11.08 trillion, Bank Bukopin Rp 1 trillion, the West Sumatra regional development bank Rp 980 billion, and the North Sumatra regional development bank Rp 500 billion.