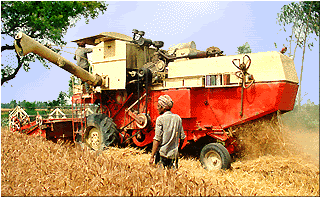 Some interesting details have emerged on the biomass projects underway in the state of Punjab, India. So far, four biomass power plants with a 28 MW capacity each been completed and six more projects of 87 MW capacity are under implementation in India's most productive agricultural state (
earlier post
).
Punjabi minister of New and Renewable Energy, Vilas Muttemwar, now unveiled the foundation stone of a
path-breaking project
for the generation of power from rice straw and other farm wastes at village Ghanaur in Patiala District.
The new 12 MW Biomass power project will be the first out of nine similar projects to be set up in rural Punjab. The plant, which runs entirely on renewable biomass, will become operational within two years followed by other similar units which will come up within four years, generating a total of 108 MW of electricity.
The projects are seen as unique 'farmer to farmer' initiatives, all located in rural areas to provide electricity in a decentralised manner. Even though they aren't run co-operatively in the legal sense of the term, they are managed collectively:
the farmers are left to organise and train themselves, so they can operate and maintain the facility themselves (contrary to the image of Indian bureaucratic sclerosis, red tape, and a Nanny-state allure, the country has been advocating a policy of 'self-organisation' and 'bottom-up' development for quite a long time, especially in rural areas)
the plant will not only provide valuable extra electricity to farmers, but the project will provide them with additional incomes, which are kept within the community; some 10,000 to 15,000 farmers located around each project area, will sell their waste biomass to the communally operated facility
for each 5MW of power, the project will generate an estimated 100,000 mandays of work, showing the employment opportunity brought by it
The biomass project is seen as a major milestone on the path towards sustainability and climate change mitigation, for three reasons:
biomass
::
bioenergy
::
biofuels
::
energy
::
sustainability
::
waste
::
rice straw
::
biomass
::
electricity
::
rural development
::
social development
::
climate change
::
carbon dioxide
::
renewable
::
carbon credits
::
Punjab
::

Firstly, it will convert agricultural waste into valuable energy, thereby reducing dependence on fossil fuels. Secondly, it will reduce the release of carbon dioxide and greenhouse gas emissions caused by the burning of over 100,000 tons of these wastes. Lastly, the plants work 100% on renewable biomass, without the input of any fossil fuels, which is why they will earn valuable Carbon Credits.



Incentives


"Biomass-based power projects will get fiscal incentives like accelerated depreciation, tax holidays for 10 years and interest subsidy on term loans," the minister said in Baghaura village.

In addition, customs and excise duty exemption for equipment and machinery would be made available for such power projects in the future.

The project has been a major thrust area for the Punjab Government, the Punjab State Electricity Board, the Department of Science & Technology and other state government organizations who have all worked to develop this project.