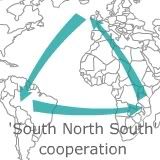 Via
EthanolBrasil
, a new blog tracking bioenergy developments in Latin America's leading economy:
according to
[*Portuguese] Brazil's ex-minister of agriculture, Roberto Rodrigues, the governments of the Netherlands and the UK will be financing ethanol production projects in Africa, and rely on Brazilian technology and expertise to do so. This is a classic example of how so-called 'South-North-South' exchanges can unlock Africa's biofuels potential. Rodrigues speaks in his function as the coordinator of the recently established
Centro de Agronegócio
[*Portuguese, *.pdf] (created by the
Getúlio Vargas Foundation
, Brazil's leading social science foundation), which has taken up bioenergy as one of its main research areas.
Interestingly, the European governments in question are not taking the easiest route because they want to support the development of biofuels in some of the continent's poorest and most troubled countries. Rodrigues says that with aid of these governments, war-torn Sudan will be one of the first countries to be invited to Brazil on a mission to learn about ethanol technologies and production strategies.
The Centro de Agronegócio wants to become a leading consulting organisation and will be networking in the Global South to spread Brazilian knowledge and experience with biofuel production. The Fundação Getúlio Vargas had already established a large body of expertise in the sector, but is now concentrating it in a 'biofuels intelligence centre'.
Brazil's experts and interests
The center - which cooperates both with academia and with leading enterprises - will offer an integrated approach to South-South exchanges and bioenergy technology transfers. It is being supported by the Interamerican Development Bank. Rodrigues: "We have 310 ethanol plants in Brazil and 160 under construction. We are going to need many qualified professionals. After their experience in Brazil, these professionals will carry the technology forward in the developing world. The Centro de Agronegócio will also become a leading meeting place for international negotiations and debates on bioenergy, Rodrigues adds.
The ex-minister explains that it is in Brazil's very own interest that ethanol becomes a globally traded commodity. "Currently there is no real global trade in ethanol, because there is only one real exporter of the product. It is crucial that other countries start producing the fuel as well, so that producing countries can trade their excess and sell to non-producers". Other countries that can't implement large biomass programs or that don't have enough land, like India and China, will gladly become importers of ethanol that can be produced economically and efficiently elsewhere, Rodrigues says.
Currently, Brazil and the United States are the world's major ethanol producers. The US uses maize as its main feedstock. Because of the low energy yield of this crop, the US will never become a biofuel exporter. This is why the US is already beginning to implement ethanol projects abroad, in the Dominican Republic, Jamaica and Colombia, Rodrigues says. According to the ex-minister, the US has set its eyes on Africa and Asia as well. But the EU might become the biggest biofuel investor in the South:
ethanol :: biomass :: bioenergy :: biofuels :: energy :: sustainability :: development assistance :: technology transfers :: South-North-South :: Europe :: Brazil :: Africa ::

Rodrigues is in the know about the fact that the governments of the Netherlands and the United Kingdom have already spoken with Luís Carlos Guedes Pinto, Brazil's current Minister of Agriculture, about creating joint projects for the production of ethanol in Africa.

On another note, Rodrigues and Guedes agree that Brazil can double its ethanol output in ten years by dedicating another 3 million hectares of land to sugarcane. Yet another 3 million hectares will be devoted to the production of raw sugar. According to Guedes, it will even be possible to triple the country's ethanol output "without cutting down a single tree".

The current minister replies to the bad press Brazil is receiving over its agricultural policies. According to Guedes, a study of Embrapa [a leading agronomy research organisation], Brazil currently has 69,5% of its original ecosystems intact, whereas Europe holds only 0.3%. "The territory that has conserved its ecosystems better than any other on this planet, is Brazil", Guedes stresses.

More information:
the Centro de Agronegócio will be integrated in the Escola de Economia de São Paulo da FGV. Besides aiming to become a leading bioenergy consulting body, its actions will focus on networking with other organisations, creating an exchange platform on agronomy and bioenergy, organising advanced courses, and distributing information to larger audiences.

ANBA: Europeus querem produzir etanol com o Brasil na África - November 29, 2006

The new expert blog on Brazil's bioenergy developments: EthanolBrasil.

The Fundaçao Getúlio Vargas.

Presentation of the newly established Centro de Agronegócio, at the Escola de Economia de São Paulo.