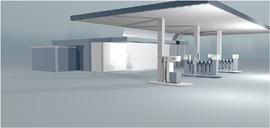 We have stressed many times that biogas makes for a very interesting transport fuel. In fact, according to a major European well-to-wheel study, biogas is the least polluting and most carbon-neutral of over 70 different fuels and fuel paths (
earlier post
). Moreover, biogas can also be produced on a massive scale, using dedicated energy crops. One German industry leader even thinks it can replace
all
natural gas imports from Russia by 2030 (
earlier post
). The German Biogas Association is equally optimistic about its longterm potential (
earlier post
).
Biogas can be produced from municipal, industrial or agricultural waste, but also from a range of dedicated crops such as grass species (like
sorghum
,
sudan grass or hybrids
) or specially bred
'super' biogas maize
. This makes it interesting for the developing world. Production of the carbon-neutral gas can be integrated in next-generation biorefineries that yield green specialty chemicals (for such a pilot project, see
here
). The green gas can be mixed in existing natural gas infrastructures, with a country like India considering to do this on a large scale (
earlier post
).
As an automotive fuel, biogas is compressed and used in the same way as Compressed Natural Gas (CNG). Some developing countries have already done great efforts to build a CNG infrastructure, with Pakistan getting over 1 million CNG-capable cars on the road in under two years time (
earlier post
). Compressed Biogas (CBG) could be added to this CNG with no major investments. In the West, Sweden leads the biogas-as-transport-fuel revolution.
Now E.ON Ruhrgas, a major German energy company that
earlier committed to producing natural gas grade biogas
, has
announced
that it will follow these examples: in the next two years it will set up about 150 filling stations on German motorways for natural gas vehicles (NGVs), and add 10% biogas to the fossil fuel. This means that there will soon be a nation-wide system of CNG/CBG filling stations in Germany. At present, natural gas as a motor fuel is available at roughly 750 filling stations throughout the country. The new measure will considerably improve the availability of this motor fuel.
For this purpose, E.ON Ruhrgas is establishing a new subsidiary known as E.ON Gas Mobil. It will build the new stations in proven cooperation with leading petroleum companies in Germany. In 2007, initially 60-70 new filling stations are to be set up. Another 60 to 70 stations are to follow in 2008. E.ON Ruhrgas is spending a total of up to €36million on this expansion of the system of NGV filling stations:
biomass :: bioenergy :: biofuels :: energy :: sustainability :: natural gas :: bio-methane :: biogas :: transport fuel :: Germany ::

"Natural gas has great potential as a motor fuel. It is not only considerably cheaper than petrol and diesel, but is also very favourable for the environment," said Dr. Bernhard Reutersberg, member of the E.ON Ruhrgas AG Board of Management and Chairman of the E.ON Gas Mobil Supervisory Board. "By establishing E.ON Gas Mobil we are sending a clear signal for the further development of this market. At the same time we continue to cooperate with German car makers offering attractive models."

The environmental advantages of natural gas as a motor fuel are to be enhanced further by the use of biogas. The latter is obtained and processed from renewable resources. In a voluntary commitment, the gas industry has pledged to add up to 10 % of biogas to the natural gas volumes provided for the motor fuel market up to 2010. It is thus making a significant contribution towards the reduction of CO2 emissions caused by road traffic. Biogas is suitable as a motor fuel for NGVs without any restrictions. In 2020, enough biogas could be available to fuel over four million NGVs in Germany.

Mr. Reutersberg stressed that the spending on the system of NGV filling stations would benefit almost entirely construction companies, architects and engineering firms in Germany. "With the present investments and the subsequent maintenance and repair activities, we are also making a positive contribution to the labour market."

These technological and infrastructural developments offer an interesting opportunity for the developing world as well, where biogas can be produced relatively easily. India is already looking into the idea of using biogas as a transport fuel (earlier post), and other countries will no doubt follow when projects in Europe prove to be a success.