Quicknote bioenergy economics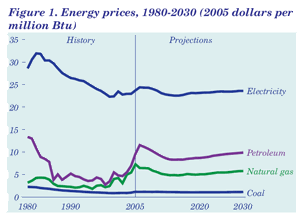 In its latest
outlook
, the Energy Information Administration (EIA), the US Energy Department's body which makes medium and longterm price predictions for fossil fuels, says it expects the oil price for the coming decades to range between US$50 and US$60 per barrel to 2030. Coal remains relatively unchanged, whereas natural gas follows oil and stays high.
Since the US government relies on these numbers for its decisions on energy policies, they have an effect on potential investments in alternatives, such as bioenergy and biofuels.
These predictions must always be approached with caution. In the past, the EIA has been wrong more often than it has been right. It did not predict the record prices of the past years; when oil approached US$80pb, the EIA's previous predictions had shown a price below US$ 30!
Nothwithstanding the relative value of longterm fossil fuel price predictions, they do have an effect on economic decisions across the world. The bad news is that these high prices will continue to be a burden on the developing world. Economies there are very energy intensive, which means they suffer most under high energy prices.
The good news is that at US$50 some biofuels will easily survive, namely those made in the very Global South where it makes sense to produce and use them. These 'tropical biofuels' are made from feedstocks as diverse as sugarcane, cassava, sorghum, palm oil, grass and tree crops. In Brazil, sugarcane ethanol is currently produced at an oil equivalent barrel price of US$35, whereas biodiesel from oil palm is competitive at around US$ 50 per barrel of oil equivalent.
At the predicted price, first-generation transport biofuels produced in the US/EU require heavy subsidies without which they cannot compete. Biomass-to-liquids technologies are currently not competitive but are undergoing a rapid learning and cost reduction curve, which may lower prices in the medium term. Cellulosic ethanol made from biomass produced in temperate climates won't find it easy either to break even, unless major scientific breakthroughs are achieved in the short term. For other forms of bioenergy, such as biogas and solid biomass for power generation, it is more difficult to say where they stand. Their outlook is moderately influenced by carbon prices, which are expected to be traded on a world market (a US panel of experts recently
urged
the Bush administration to implement the creation of a carbon market). For the EU, some analysts see carbon prices skyrocket to €80 per ton within a few years, up from current historic lows of €6.70. If this is the case, biofuels used for power generation are set to benefit considerably over fossil fuels.
Finally, the EIA's predictions assume a business as usual scenario that does not take into account the possible peak of world oil production. Even though we do not engage in the Peak Oil debate per se, more and more analysts are convinced that this moment is about to arrive, somewhere in the next decade. If this were to be the case, oil prices would see an unstoppable and steep rise, strengthening the case for biofuels for good [entry ends here].
ethanol :: biodiesel :: biomass :: bioenergy :: biofuels :: energy :: sustainability :: fossil fuels :: bioenergy trade :: competition :: subsidies :: peak oil :: Energy Information Administration ::