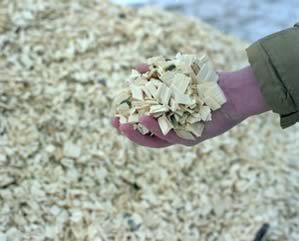 China's first direct biomass-fired power plant, with an installed generating capacity of 25,000 kilowatts, has
gone into commercial operation
in east China's Shandong Province.
Located in Shanxian County, the 300 million yuan (€28.7/US$35.7 million) plant burns 150,000 to 200,000 tons of agricultural and forestry residues: cotton stalks, tree branches, orchard waste and wood chips.
The plant's capacities and benefits can be summarised as follows:
It generates 160 million kilowatt-hours of electricity a year, saving the equivalent of 400,000 tons of coal.
Local farmers and biomass enterprises are expected to earn about 40 million yuan (€3.8/US$5.1 million) from the project each year.
The 25,000-kilowatt biomass-fired power plant is carbon-neutral in that the CO2 it emits gets taken up by new biomass growth. Annually the plant saves some 100,000 tons of CO2, an amount that would be emitted by a thermal, coal-fired plant of a similar size.
The ash of the burned biomass is high quality potash fertilizer.
The Chinese government has attached great importance to the development of clean energy projects in recent years. It is currently refining (
earlier post
) its ambitious bioenergy plans (
earlier post
), and technical cooperation with foreign research agencies, companies and governments on renewable energy projects is speeding up (on biomass co-firing in coal-plants, see
here
; on China's interest in German biomass-to-liquids technology,
here
; on a European energy company's contract to buy carbon credits from green energy firms in China,
here
and on bilateral cooperation agreements with
Malaysia
, the
Philippines
, the
Greater Mekong Delta Region
or
Nigeria
).
Large number of biomass plants planned
Even though China's growth has been powered almost entirely by coal, the most climate destructive fossil fuel, the People's Republic knows that this situation is untenable in the long-run. Therefor it has approved the construction of over 30 biomass power plants, some which are under construction and some will begin construction by the end of the year:
bioenergy :: energy :: sustainability :: climate change :: carbon :: CO2 :: coal :: electricity :: renewable :: biomass :: China ::

The Shanxian plant is funded by the National Bio Energy Co., Ltd., a subsidiary of the State Grid Corporation of China, which is in charge of the power grid covering northern China, or the areas to the north of the Yangtze River. State Grid has been given the green light by the government to build 22 biomass power plants, including 15 with a combined installed capacity of 350,000 kilowatts that are under construction. An interactive map of the locations of those planned power plants can be found here.

Established last October with a registered capital of one billion yuan (€96/US$128 million), the National Bio Energy Co., Ltd. is mainly engaged in the development of what it calls 'bioelectricity'. Insiders say the Shanxian plant plays a pilot role in developing China's bioelectricity.