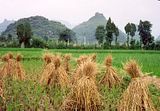 China's rapid economic development has been almost entirely fuelled by coal. The country has enough reserves and supplies to allow it to continue to grow its economy. But China's coal industry is under pressure, not only because it is based on old, unsafe mines (which are being closed), but more importantly because the fuel is turning the People's Republic rapidly into the world's biggest polluter. If China continues to burn coal at its current pace, all climate change mitigation efforts by all other industrialised countries combined, would be in vain.
Between 75% and 80% of China's electricity is generated by burning coal. Another 20% comes from large-scale hydropower projects, with most of the rest coming from nuclear stations. In 2006, China consumed some 2.1 billion tons of the dirty fuel. Predictions that assume a 'business-as-usual' scenario suggest that total energy demands will rise to the equivalent of 3.5 billion tons of coal per year by 2020 - which would be a true disaster.
For this reason, finding ways to reduce coal consumption is a top priority for the Chinese government. To achieve this, two major and obvious paths are being investigated: increasing the efficiency of power plants, and substituting coal with cleaner alternatives.
It is within this context that the Chinese government is seriously investing in biomass R&D and in getting green power plants operational as fast as possible. Earlier this week, the country's first self-developed 100% straw-burning power generation project has
begun
pilot operation in Suqian, in east China's Jiangsu Province, according to the China Energy Conservation Investment Corporation (CECIC). The 248 million yuan (€24/US$31 million) project is expected to burn between 170,000 and 200,000 tons of rice and wheat straw and will generate 132 million Kwh of electricity per year, says Yang Xincheng, general manager of CECIC.
Each year in China, around 140 million tons of straw and crop stalks are burned in the open air on farmers' fields or on nearby highways. The energy contained in this enormous amount of agricultural residues not only goes to waste, the burning biomass also releases vast amounts of carbon dioxide into the atmosphere. By substituting coal with this biomass that is otherwise burned, China can reduce CO2 emissions two times.
By making full use of the resource, China can save the equivalent of 100 million tons of coal, Yang says:
bioenergy :: biofuels :: energy :: sustainability :: coal :: climate change :: rice straw :: residues :: biomass ::China ::

In the future, dedicated, non-food energy crops might be planted to supply more biomass. The Chinese government has approved the construction of over 30 biomass power plants so far. Some are already being built, others will begin construction soon.

Foreign investments and scientific assistance is focused on biomass projects as well. A consortium of European research institutes, united in the China-EU Bioenergy project, recently announced that it is going to help China with co-firing biomass in coal plants. According to the project leader, precisely because China's economy is growing so fast and because its energy challenges are so great, the country offers enormous possibilities for bioenergy to make a major contribution to improving the global environment.

China-EU Bioenergy will share the results with the European co-firing industry and help companies form technology partnerships with Chinese power stations (earlier post).