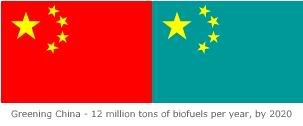 China's very ambitious bioenergy plans that are targeted to result in the production of 12 million tonnes of biofuels for transport in 2020 (
earlier post
), are being adapted to new market circumstances and technologies (
earlier post
). In a latest development, State media
reported
that the People's Republic will restrict the use of corn and other edible grains for producing biofuel, noting concerns over surging livestock feed prices despite expectations for yet another bumper harvest. The Ministry of Agriculture (MOA) is piloting production of biofuel derived from non-grain crops instead.
"We have a principle with regard to biofuel: it should neither impact the people's grain consumption, nor should it compete with grain crops for cultivated land," said Yang Jian, director of the development planning department under the Agriculture Ministry.
Yang emphasized that his ministry opposes using edible grains as raw material for biofuel. He noted that the government was therefor encouraging farmers to grow sweet sorghum, cassava and other non-grain crops on marginal land to supply biofuel processors.
East Asia's limited potential
Even though China's biofuel plans contain ambitious targets, compared to other regions, East Asia has a relatively low bioenergy production potential - mainly because of its large population. Research indicates that under the most optimal circumstances, the region as a whole can produce a maximum of 188 Exajoules of bioenergy (this is roughly 84.4 millions barrels of oil equivalent energy per day) (
earlier post
). This technical potential assumes efficient technologies and high yielding energy crops. Corn and many other grain crops used in low-tech first-generation biofuels are very inefficient for the production of bioenergy. Over the long run, they will have to be replaced by biomass to be used in next-generation conversion technologies:
ethanol :: biodiesel :: biomass :: bioenergy :: biofuels :: energy :: sustainability :: cassava :: sorghum :: China ::

Competition between food and fuel processors for grains needed to make biofuels is not limited to China. Worldwide, surging demand for grain crops has been a godsend for many farmers, but is pinching consumers as higher prices hit the industrial food chain, particularly the livestock sector:

China's economic planners have made increasing production of ethanol, a key biofuel, a goal in the country's five-year economic plan, to help curb pollution and reduce reliance on fossil fuels.

But protecting arable land and ensuring adequate food supplies is the top priority, the reports said. "In China, the first thing is to provide food for its 1.3 billion people, and after that, we will support biofuel production," the People's Daily quoted Wang Xiaobing, an official at the Agriculture Ministry's crops cultivation department, as saying.

China has begun auctioning some of its wheat reserves to help control a surge in prices in local markets, despite reports that the grain crop is expected to hit a record 490 million tons this year, the third straight year of bumper harvests.

Wheat prices are at their highest level in a decade, due to severe droughts in the U.S. and Australia, and corn prices have also surged by up to 20 percent in local markets.

Prices for edible oils, meat and other products have also jumped, drawing complaints from consumers.

China can supply nearly 100 percent of grain demand locally, and despite the country's relatively scarce land and water government policy supports maintaining basic self-sufficiency for the sake of national security.