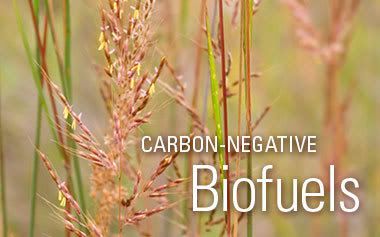 Science magazine
's latest cover article is devoted to the topic of
carbon negative
biofuels. To date, biofuels such as ethanol and biodiesel are produced from monocultures grown on fertile soils. These biofuels are "carbon-neutral" at best, or slightly "carbon-positive" because their production and combustion increases atmospheric CO2, although far less than fossil fuels. Depending on where and what type of crop is grown, the biofuels that result from it are more or less carbon-positive. Corn, grown in the US for ethanol, reduces virtually no CO2 because it has a very low energy balance, whereas ethanol obtained from sugar cane in Brazil cuts down carbon by up to 80%.
Now a new study,
published in the Dec. 8 issue of Science
[abstract] and led by David Tilman, Regents Professor of Ecology in the University of Minnesota's College of Biological Sciences, finds that biofuels based on polycultures of multiple species can be "carbon negative" and may provide a substantial portion of global energy needs in a sustainable and environmentally beneficial manner without competing with food production for fertile lands.
Highly diverse mixtures of grass species have emerged as a leader in the quest to identify the best source of biomass for producing sustainable, bio-based fuel to replace petroleum. Such mixtures of native perennial grasses and other flowering plants provide more usable energy per hectare than corn grain ethanol or soybean biodiesel and are far better for the environment.
"Biofuels made from high-diversity mixtures of prairie plants can reduce global warming by removing carbon dioxide from the atmosphere. Even when grown on infertile soils, they can provide a substantial portion of global energy needs, and leave fertile land for food production"

-- David Tilman.
This is good news for the tropics and subtropics, where many energy grass species that are grown today in the US and Europe originate from. Based on 10 years of research at Cedar Creek Natural History Area, the study shows that degraded agricultural land planted with highly diverse mixtures of prairie grasses and other flowering plants produces 238 percent more bioenergy on average, than the same land planted with various single prairie plant species, including monocultures of switchgrass:
ethanol :: biomass :: bioenergy :: biofuels :: energy :: sustainability :: monoculture :: polyculture :: energy yield :: grass :: carbon cycle :: carbon neutral :: carbon negative ::


Tilman and two colleagues, postdoctoral researcher Jason Hill and research associate Clarence Lehman, estimate that fuel made from this prairie biomass would yield 51 percent more energy per acre than ethanol from corn grown on fertile land. This is because perennial prairie plants require little energy to grow and because all parts of the plant above ground are usable.

Fuels made from prairie biomass are "carbon negative," which means that producing and using them actually reduces the amount of carbon dioxide (a greenhouse gas) in the atmosphere. This is because prairie plants store more carbon in their roots and soil than is released by the fossil fuels needed to grow and convert them into biofuels. Using prairie biomass to make fuel would lead to the long-term removal and storage of from 1.2 to 1.8 U.S. tons of carbon dioxide per acre per year. This net removal of atmospheric carbon dioxide could continue for about 100 years, the researchers estimate.

In contrast, corn ethanol and soybean biodiesel are "carbon positive," meaning they add carbon dioxide to the atmosphere, although less than fossil fuels.

Switchgrass, which is being developed as a perennial bioenergy crop, was one of 16 species in the study. When grown by itself in poor soil, it did not perform better than other single species and gave less than a third of the bioenergy of high-diversity plots.

"Switchgrass is very productive when it's grown like corn in fertile soil with lots of fertilizer, pesticide and energy inputs, but this approach doesn't yield as much energy gain as mixed species in poor soil, nor does it have the same environmental benefits," said Hill.

To date, all biofuels, including cutting-edge nonfood energy crops such as switchgrass, elephant grass, hybrid poplar and hybrid willow, have been produced as monocultures grown primarily in fertile soils.

The researchers estimate that growing mixed prairie grasses on all of the world's degraded land could produce enough bioenergy to replace 13 percent of global petroleum consumption and 19 percent of global electricity consumption.

The practice of using degraded land to grow mixed prairie grasses for biofuels could provide stable production of energy and have additional benefits, such as renewed soil fertility, cleaner ground and surface waters, preservation of wildlife habitats, and recreational opportunities.

There are 30 million acres of grasslands in the U.S. Conservation Reserve Program (CRP), which pays farmers to manage land to benefit the environment. Current CRP regulations do not allow prairie grasses grown on this land to be used for renewable energy, but the U.S. Farm Bill could be revised to accommodate this practice, Tilman added. Doing so would have important economic, environmental and energy security benefits.

"It is time to take biofuels seriously," Tilman said. "We need to accelerate our work on biomass production and its conversion into useful energy sources. Ultimately, this means we need to start paying farmers for all the services they provide society -- for biofuels and for the removal and storage of carbon dioxide."



Bioconversion


It must be stressed however that the high energy yields obtained in grass polycultures are theoretical. Growing grasses as a solid biomass feedstock is a viable option for the generation of electricity.

But when it comes to the production of liquid biofuels, other bioconversion techniques have to be used. Since cellulosic ethanol production is not efficient yet and very costly, traditional biofuel crops such as sugar cane, palm oil, canola or corn, grown explicitly for the production of first-generation liquid fuels, will still dominate the market for a long time, we think. These crops are grown because their oils and sugars can be easily extracted and converted into fuels.


For future reference, we publish the abstract of the article here:

Carbon-Negative Biofuels from Low-Input High-Diversity Grassland Biomass
David Tilman,1* Jason Hill,1,2 Clarence Lehman1, Science 8 December 2006: Vol. 314. no. 5805, pp. 1598 - 1600 DOI: 10.1126/science.1133306

Biofuels derived from low-input high-diversity (LIHD) mixtures of native grassland perennials can provide more usable energy, greater greenhouse gas reductions, and less agrichemical pollution per hectare than can corn grain ethanol or soybean biodiesel. High-diversity grasslands had increasingly higher bioenergy yields that were 238% greater than monoculture yields after a decade. LIHD biofuels are carbon negative because net ecosystem carbon dioxide sequestration (4.4 megagram hectare–1 year–1 of carbon dioxide in soil and roots) exceeds fossil carbon dioxide release during biofuel production (0.32 megagram hectare–1 year–1). Moreover, LIHD biofuels can be produced on agriculturally degraded lands and thus need to neither displace food production nor cause loss of biodiversity via habitat destruction.