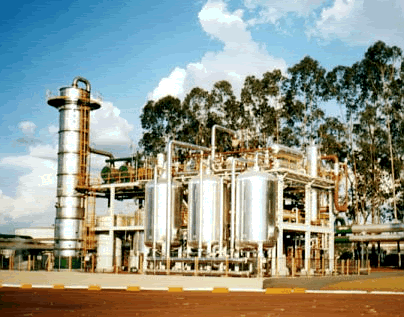 Finally, a smart form of investing. Instead of pouring money into uncompetitive, low yielding, low GHG-mitigating biofuels based on crops grown in temperate climates (such as corn or rapeseed), the British fund
Clean Energy Brazil
(CEB), which raised 100 million pounds this week on the London Stock Exchange, is going to invest directly into Brazil's thriving ethanol industry. The CEB will focus on making Brazilian cane sugar and ethanol mills more efficient, under the motto: "local leadership, international markets, developed world governance". The adage hints at a trend that might define the bioenergy industry of the future: research and local technologies developed by experts from the South find investments from funds from the North, with the aim of creating a global commodity market from which both benefit.
Brazilian ethanol is the world's most efficient, climate friendly, and cheapest biofuel. The energy balance of the green fuel currently varies between 8 and 10 to 1, meaning that for each unit of (fossil) energy you put into planting, harvesting, and processing the crops, you get between 8 and 10 times more energy in return (
earlier post
). The energy balance of "lobby fuels", such as US corn ethanol, is lower than 1.5. Some even say it's negative.
Brazilian farmers, sugar processors and ethanol producers underwent a rapid learning curve, which lowered the production costs for ethanol by 75% over 25 years (
earlier post
). But industry analysts and agronomists think this trend is far from over: Brazilian ethanol can become even more efficient and double or even triple its output per hectare, as both processing technologies progress and biotechnological advancements are made (
earlier post
).
It is within this context that the CEB fund will invest in the world's most competitive biofuel industry:
biomass :: bioenergy :: biofuels :: energy :: sustainability :: investing :: investment fund :: sugar cane :: ethanol :: Brazil ::


Temple Capital Partners along with British consultants Czarnikow, Brazil's Agrop consultants and investment bank Numis Corporation will make up the management of CEB, says CEB Board President Antonio Monteiro de Castro.

"One of the differences is that the know-how of Temple ... will support the companies that will use investments to improve their results," said De Castro, a Brazilian living in London.

CEB is the latest foreign interest to enter Brazil's booming cane-based ethanol industry as the world's search for alternative energy continues in the face of stubbornly high international oil prices.

The company raised 100 million pounds after it opened 100 percent of its capital with an initial public offer on the Alternative Investment Market on Monday. CEB will invest in upgrading existing mills and in new projects in Brazil's cane-rich center-south.

CEB's goal is for its investments to reach an annual crushing capacity of 30 million tonnes by 2012.