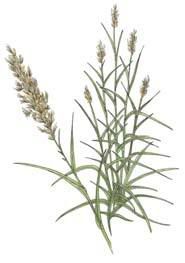 A while ago we reported on the Florida-based Biomass Investment Group (BIG), when it announced that it was going to grow
Miscanthus x giganteus
, a grass species, in the Philippines as a biomass feedstock for power generation. BIG is renting land from Filipino farmers at rates they never expected to obtain, thereby stimulating the local economy (
earlier post
).
The same company is now embarking on a similar project in Florida, using
Arundo donax
as the energy crop that will be grown on 20,000 acres (8000ha). The biomass will be converted into bio-oil, a heavy fuel oil, via a fast-pyrolysis process (for more on this process see the EU/IEA
Biomass Pyrolysis Network
). This carbon-neutral oil will then be used in a power plant that will provide electricity to some 80,000 Floridian households.
The project is similar to some in Europe, where high-yielding grass species are grown for bioenergy (see for example
this project
in France). In an
interview
broadcasted on American Public Media, Jerry Whitfield of the BIG and Bob Niekum of Progress Energy Florida, the energy company which buys the electricity, explain the project in detail. We summarise the main points of interest:
Arundo donax

, also known as the 'Spanish cane' is a giant reed native to the Mediterranean. Originally the grass species adapted from subtropical climates but is now found in Cool Temperate Wet through Tropical Dry to Wet Forest Life Zones. It arrived in the U.S. more than a century ago and was planted to control erosion in California stream beds. Since then, it has become a noxious weed in some zones, with large campaigns aimed at eradicating it.
The grass species is very hardy and needs virtually no fertilizers, nor any other means of protecting the crop with herbicides during its growth.

The grass's bamboo-like stems can grow up to 6 metres in height (18ft). Arundo is strongly rhizomatous which results in dense patches. Dry matter yields of up to 50 metric tonnes per hectare have been recorded and 75 tonnes in the tropics, but 25-30MT/ha is a more realistic estimate for average yields in more temperate climates (see the plant profile in The Handbook of Energy Crops).
Assuming a dry matter yield of 30MT/ha/yr, at a gross heating value of 17.1GJ/tonne (see the Bioenergy Feedstock Characteristics at the ONRL's biomass website), then a hectare of Arundo yields around 84 barrels of oil equivalent. Grown in the tropics, twice that amount can be obtained.


BIG will grow about 20,000 acres (8000ha) of Arundo on a Florida farm. It will then convert the biomass into a liquid fuel (pyrolysis oil), and burn it in a gas turbine. The waste heat from the turbine exhaust then produces steam that churns out additional electricity in a steam turbine.

The resulting energy will be enough to power 80,000 homes on a continuous basis. Whitfield says the production process increases the facility's efficiency two-fold above current biomass methods. That will make it on target to produce energy at prices below what a conventional plant might produce.

Bob Niekum with Progress Energy Florida says the reed-driven energy facility will be carbon neutral — that is, it will have no net output of carbon dioxide, known to contribute to greenhouse gases.
Niekum says most environmental groups favor the project. But the Florida Native Plant Society and a other groups oppose it:
biomass :: bioenergy :: biofuels :: energy :: sustainability :: Arundo donax :: giant reed :: Miscanthus :: pyrolysis :: pyrolysis oil :: bio-oil ::

Niekum and BIG say the reed's growth is easy to control, with a simple ditch around the farm. But Roger Anderson at Illinois State University isn't so sure. He says the giant reed can spread easily, clog waterways and even be a fire hazard. Anderson says many species proposed as biomass crops, including Arundo, are potentially invasive plants.

If more studies point out that the energy crop in question can be grown in a relatively controlled manner, then it would make for a very interesting bioenergy feedstock for large-scale production in the developing world.

As with most energy crops grown for exports, the biomass would first have to be densified before being shipped. Several options exist, such as pelletizing and briquetting, but for transcontinental transport, conversion into pyrolysis oil is most efficient in most scenarios. The International Energy Agency's Bioenergy Task 40 conducted a study on the logistics of biomass exports. It looked both at the energy costs and GHG-balance of long-distance transport (Brazil to Rotterdam, and Maputo to Rotterdam) of biomass in different densified forms, and it concluded that transport costs, energy balances and carbon-emissions are negligeable factors in determining the final cost of the biofuel.



More information:


-The Biomass Investment Group website.
-Progress Energy Florida: Progress Energy Florida signs deal to purchase power from proposed biomass plant - May 1, 2006
-American Public Media: Energy solution or noxious weed? - Dec. 6, 2006
-Carlo N Hamelinck, Roald AA Suurs, André PC Faaij, International bioenergy transport costs and energy balance, IEA Bioenergy Task 40.