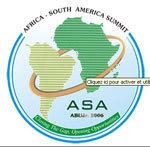 Last week, more than 60 heads of state and government gathered in Abuja, Nigeria, to attend the first Africa South-America Summit. Amongst them South Africa's Thabo Mbeki, Algeria's Abdelaziz Bouteflika, Brazil's president Luiz Inacio Lula da Silva, Bolivia's Evo Morales, and Chilean president Michelle Bachelet. Analysts say the summit was a sign that Africa, long neglected by the rest of the world, is now attracting significant attention following recent high-profile initiatives by China and the European Union to establish closer ties. Energy--both fossil and bio-based--plays a prominent role in the continent's growing appeal.
Discussions on increased South-South cooperation between the two continents dominated the talks in Nigeria at a time when Latin American countries such as Brazil and Venezuela are striving for a greater presence on a continent once carved up by Europe. Already, Venezuela's President Hugo Chávez has nearly doubled the number of embassies on the continent since January 2005.
And Brazilian President Luiz Inacio Lula da Silva, who hosted a three-way summit recently with his South African counterpart Thabo Mbeki and Indian Prime Minister Manmohan Singh, has made five trips to the continent since coming to power in 2002. Bilateral trade between Brazil and Africa has doubled since 2003. Nigeria also announced that its total volume of trade with Brazil reached $4.9 billion in the last year.
The main issues that were discussed included areas such as direct foreign investment, infrastructures, energy, natural resources and strategies for closer cooperation itself. Exchanges on biofuels took center-stage under the impulse of Brazil's president Lula, whose country has so far assisted Senegal, Nigeria, Angola and Mozambique on creating biofuels industries. He stressed that Brazil not only has the expertise to help, but that the development of carbon-neutral energy industries is crucial for Africa, being the continent that stands to lose most from dangerous climate change.
A new development paradigm
More important, perhaps, is the strategic shift on the diplomatic, economic and cultural front that became apparent during the summit. François Polet, researcher at the
Centre Tricontinental
(CETRI), a Belgian think tank specialised in South-South relations and development economics, says that until very recently, both parts of the world - previously and arrogantly described as the 'third world' - weren't on that friendly a footing because both of them were focused on relations with Europe. The former colonial power still worked like a distorted prism through which the other continents saw their own social, economic and cultural aspirations. This 'imaginary dependence' has now been broken radically and is making place for a new kind of globalisation. Brazil's Lula da Silva is the main driving force behind the change, and has started a process of intense exchanges with clear aims: to break the economic and ideological hegemony of the West:
bioenergy
::
biofuels
::
energy
::
sustainability
::
South-South
::
trade
::
WTO
::
globalisation
::
South America
::
Africa
::

This South-South strategy is primarily based on a kind of pragmatism which fuses self-interest with cooperation. It is quite different from the 'specular' relationship with Europe which is so burdened by the past. But it also differs from old "third worldist" paradigms based on a vaguely leftist discourse.

Polet first examines some very concrete issues on which both camps can agree to cooperate:

First of all, Brazil is an agricultural power house and sees Africa as a huge export market. Because Africa is a potentially large agricultural exporter itself, it is in Brazil's interest to develop synergies instead of destructive competition. Bioenergy and biofuels offer a way out.

Secondly, Brazil wants to obtain a permanent seat on the UN Security Council and can use all the help it can get. The African countries, who have two non-permanent seats, will gladly offer their support, but will do so in exchange for extra non-permanent seats.

Thirdly, and still according to Polet, the two camps want to break the power of the United States in the World Trade Organisation, especially on the front of agriculture. In the cotton case, they already showed that joining forces pays off. "The West is beginning to understand that it doesn't make the rain and the weather any longer", says Polet.

Crucially, China supports South-America's attempts to build South-South power, because the sooner Latin American and African economies develop, the easier it will be for the rising giant to satisfy its own enormous resource needs in the future.



Globalisation of a new kind


Finally, there are ideological reasons which facilitate the intensification of relationships between the two continents. Brazil doesn't shy away from becoming the spokesperson of the developing world. Lula's very own Worker's Party stresses the idea of national sovereignty, a concept still valued very much by African nations who have had to endure colonialism, post-colonial dictatorships (often installed by the former Cold-War rivals), and current dominance by foreign forces under the banner of neoliberal globalisation. South-South cooperation might offer a strategy to break this (perceived) dependence, without abandoning the idea of 'globalisation' itself. The exercise comes down to "globalising from the Left and from the South", in order to strengthen national sovereignty.

According to Polet, Hugo Chavez plays a role here too, with his altermondialist and anti-imperialist agenda, which he tries to boost by involving African politicians. His anti-capitalist message echoes well in Africa, even though, Polet adds, "African altermondialists are radical democrats".

But doesn't this all sound rather familiar? What makes these new exchanges different from earlier attempts to strengthen the power of the South, such as the Non-Aligned Movement? Don't Lula and Chavez's agendas resemble a kind of old school, left-wing "third worldism"? Polet doesn't think so. What has changed is the extremely pragmatic approach of both camps, made possible by their increasing economic power and the idea that opening each others markets benefits both parties. Despite the vaguely 'socialist' rethoric, instead of a left-leaning third worldism, we are witnessing the birth of a more liberal kind of third worldism which simply invites the countries of the North to respect their own trade and political rules. And today, by joining forces and economic power, the South is succeeding in achieving exactly this aim.

More information:
For the focus on biofuels at the Summit, see Afrik: L'Afrique et l'Amérique du Sud se rencontrent à Abuja - Nov. 29, 2006
AllAfrica: Nigeria: Venezuela Calls for Africa-South America Institutions - Dec. 4, 2006
AllAfrica: The Africa-South America Summit - Nov. 30, 2006