The nascent bioenergy industry is resulting in the development of a whole series of new agronomic concepts, farming tools and bioprocessing technologies. A complex web of interactions drives breakthroughs that stimulate each other. For example, when a viable bioconversion technology like efficient fast-pyrolysis of biomass emerges, the development of new tools is prompted that can harvest biomass residues efficiently, and new agronomic and logistical concepts are built around the process.
High-tech breakthroughs open up new possibilities that result in low-tech inventions. Let us present three examples of this interaction.
Harvesting grass for biogas
Germany is experiencing a massive increase in biogas production (
earlier post
), with the green fuel being used on farms to generate electricity. Others are creating large facilities that deliver purified biogas (made from dedicated energy crops) to the natural gas grid (
earlier post
). Still others build true high-tech biorefineries around biogas that result in the production of fuels, biopolymers and green specialty chemicals (
earlier post
).
More than half the 5000 biogas fermenters on German farms are now fuelled partly or
completely
with grass, wholecrop cereals or maize, according to the country's Ministry of Agriculture. The crops are first ensiled and then fed in regular batches into the fermenter. Electricity produced is sold to the national grid at a €0.06 per kWh.
German farm equipment firm Krone
saw the trend and jumped on it
. It now applies its twin-engine approach for flexible forage harvesting to a new self-propelled machine:
biomass :: bioenergy :: biofuels :: energy :: sustainability :: biogas :: cellulosic ethanol :: farm equipment :: harvesting :: agronomy :: logistics :: bioconversion ::

The 'Big X 800' has two DaimlerChrysler power units, one producing around 500 HP and the other around 330 HP. Krone explains that clean and economical running is one of the selling points of the new model with engine emissions fully meeting the January 1, 2007 TIR 3 exhaust requirements and a rated 823 HP achieved at a moderate1950 rpm.

Economy is further helped by the Krone electronic engine control which automatically shuts down one of the power units when not required, for instance during roadwork at up to 25mph.

In the field, the Big X 800 chops with an 800 mm wide 28-knife drum. For a finer chop, particularly desirable for biogas silage, Krone offers a 40 knife drum.

The new Krone is "little brother" to the 980 HP twin 12.8 litre engined Big X 1000 introduced in 2005 and now one of the stars in a booming German market for self-propelled harvesters which has brought total sales of all makes to over 500 during 2006.

The German machinery manufacturers association (VDMA) reports that 504 new self-propelled forage harvesters were sold in the year to October 2006, the highest annual number for nine years. At the same time the average power of the machines has also increased with one third of annual sales now rated at over 530 HP.



Corn stover for cellulosic ethanol, BTL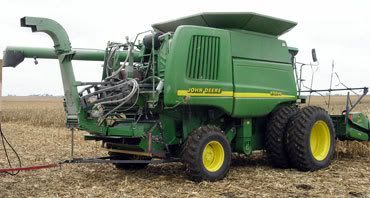 Researchers from Iowa State University developed a machine to harvest corn stalks and leaves, because these biomass sources are expected to play a major role in next-generation biofuels (cellulosic ethanol and biomass-to-liquid synthetic fuels).

That dual-stream, single-pass harvesting system was developed by Stuart Birrell, an Iowa State associate professor of agricultural and biosystems engineering, and graduate students Mark Dilts and Ben Schlesser. They're working to design, build and test machinery that will harvest corn stover - the stalks, cobs and leaves - when farmers bring in their grain. The researchers are developing stover attachments that can be used on standard combines. The result would be an additional cost to farmers of about $10,000 to $15,000 instead of the six figures it would take for a separate combine to harvest stover. The attachments would also allow farmers to harvest grain and stover with one pass through a field.

The system the researchers have come up with includes a modified row crop header and corn reel attached to the front of the combine and a chopper and blower attached to the back.

The header and reel feed leaves and stalks into the combine so the biomass can be harvested before it touches the ground and is contaminated with soil. The chopper cuts stover into 2-inch pieces. And the blower throws the chopped stover into a wagon.

Although tests with the prototype machine have been successful, Birrell said there is more development work to do:

* Harvest capacity. The stover harvesting equipment is capable of speeds equal to a normal grain harvest when less than 50 percent of the stover is collected. When all of a field's stover is collected, harvest speeds are about half of a normal grain harvest. Birrell said that would be unacceptable to farmers. And so he's working to get the speed to at least 80 percent of a normal grain harvest -- no matter how much stover is collected. That would allow farmers to decide how much stover they want to harvest without significantly affecting the time it takes to harvest their fields.
* Transportation. Birrell said researchers need to figure out how to pack the harvested stover so it can be economically transported. He said stover comes off the combine at a density of about 3 to 4 pounds per cubic foot; it needs to be about 10 to 12 pounds per cubic foot for efficient trucking.
* Storage. Birrell said researchers need to figure out how huge quantities of biomass can be stored. He said the U.S. Department of Energy has estimated a biorefinery would need at least 2,000 tons of biomass per day. A year's supply would cover 100 acres with 25 feet of biomass.
* Fertility. Birrell said researchers need to determine how much stover can be removed from fields while still returning sufficient organic matter to the soil and protecting the soil from winter erosion.

Birrell's stover harvesting research has been supported by a three-year, $180,000 grant from the U.S. Department of Agriculture and the U.S. Department of Energy and a two-year, $50,000 grant from Deere & Company of Moline, Ill.

Birrell said development of a stover harvesting system has been constrained by a lack of research funding. "Significant resources have been dedicated to the process of converting cellulose into ethanol," he said. "But very little has gone into answering how do you get a supply of stover from the field to the biorefinery. This will be critical to the success of the bioeconomy."



Banana biogas to power farm equipment


Besides the development of new harvesting tools and machines, there's also a trend underway that looks at adapting farm equipment in such a way that it can use biofuels produced by the farm itself.

An interesting example is that of an Australian horticulture organisation, Growcom, which is building a pilot banana biogas plant that will test the commercial viability of using waste bananas to produce methane. The biogas would be cleaned and compressed for use as fuel for forklift trucks, farm vehicles and other vehicles currently using diesel fuel. This project will also produce fertilizer as a by-product and reduce reliance on fossil fuels on the farm complex.

The project has clear targets and already some research that proves its viability. The researcher say that they "anticipate that the pilot plant will begin producing gas in about five months' time and we hope it will prove that the gas can be produced in commercial quantities and compressed for use in combustion engines to power tractors and machinery. We expect the project will confirm the research findings made by the Division of Environmental Engineering at the University of Queensland last year." Researchers showed that natural gas could be produced from bananas using a 'continuous digestion' process involving natural microbial organisms. "We plan to transform their work from the laboratory benchtop into a full scale pilot plant on farm."

"We hope that scaled up production could ultimately see a cheaper alternative fuel to petrol produced at the larger packing sheds on farm, saving growers a significant amount on their annual fuel bill. "The technology also has the potential to be transferred to other fruit and vegetable commodities such as apples in other regions." (See our previous post on this project.)