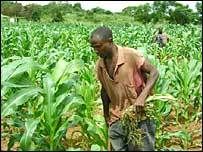 We have always maintained that biofuel production in the South offers chances for social and rural development amongst some of the world's poorest people, namely farmers in developing countries. By cultivating energy crops, these communities can diversify their crop portfolio, generate substantial incomes and hence increase their economic power and ultimately their food security, health and wellbeing. On the level of the state, biofuel production can cut fossil fuel imports and dependency, and thus free up funds that can be invested in social and economic development.
Examples of the enormous job generating potential of biofuels are emerging more and more often from countries as diverse as
Nigeria
(3 million jobs in the first ethanol program),
Brazil
(3.6 million jobs over the coming 5 years),
Indonesia
(2.5 million jobs in 5 years)
Argentina
,
Senegal
,
India
,
Liberia
, and
South Africa
. In China, the government is now even talking about
'hundreds of millions' of poor farmers who stand to benefit
from the biofuels revolution, which is seen as a strategy to close the dangerous wealth gap between the urban zones and the poor hinterland.
Now the National Association for Peasant and Small-Scale Farmers of Zambia (NAPSSF)
announces
that about 300,000 small-scale farmers are expected to start growing biofuel crops on more than 150,000 hectares of land next year.
Even though Zambia is one of sub-Saharan Africa's most urbanised countries, 63.5% of people there live in the countryside and in 2030, more than half its population will still live in rural areas (
FAO Popin database
). 85% of the nation's people try to make a living in the agricultural sector but some 50% of all people are un- or underemployed. 86% of all Zambians lives below the poverty line. In short, social and rural development should be top priorities here. These rural communities have long been neglected by central authorities and international development agencies alike, but by tapping the biofuels opportunity, they are putting themselves on the map again (because nobody else is doing it).
Zamba is highly dependent on imported oil, which is a heavy burden on the state's finances. But the country has the agro-ecological resources needed to become energy independent: a huge unused arable land base (58.4 million hectares of which 9% or 5.2 million hectares are currently used for food production -
FAO Terrastat
). Of this land base, large tracts are suitable for the cultivation of energy crops such as sugarcane, maize, sorghum, jatropha, groundnuts, tree and grass crops, to name but a few (see the
'Land Suitability Maps for Rainfed Cropping' database
for these different crops).
Given this potential, and the enthusiasm of the rural poor for tapping this opportunity, NAPSSF president Rodger Phiri has called on the government to quickly develop policy frameworks for biodiesel production:
ethanol :: biodiesel :: biomass :: bioenergy :: biofuels :: energy :: sustainability :: poverty alleviation :: rural development :: energy security :: Zambia ::

Phiri said there was need to develop sustainable agriculture that demonstrates steps towards poverty alleviation and self- empowerment for farmers, noting that the cultivation of jatropha would help rural farmers living in poverty.

He said if agriculture was to be the engine of Zambia's economic development, there was need to increase funding to the sector from the present figures. "Biodiesel farming should be encouraged with a road map and targets to be achieved over a number of years," Phiri said.

He also called on the Zambian government to provide training and technological support for farmers to develop jatropha if production of bio-diesel is to be sustained.

This is a first trial of large-scale biofuel production in Zambia. In the future, the country stands a chance of becoming a true biofuels 'superpower', given its vast natural resource base. But in order to make this bright green future a reality, there's still a lot of work to be done on the front of investments in infrastructure, logistics, technology and agronomy. Extension and outreach services will have to be created. Policy frameworks and markets need to be developed. The resources and the need is there, the political and investment community's will now have to follow.