Quicknote bioenergy business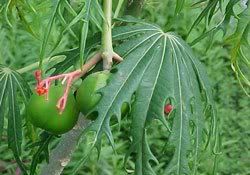 Sun Biofuel Tanzania Limited
(SBF) has signed a memorandum of understanding with Dar es Salaam and Kisarawe district authorities for the production of bio-fuel. Under the MoU, the company will be allocated a total of 18, 000 hectares of land. The company will use the land for planting
jatropha curcas
(locally known as
mkaranga
), the seeds of which will be crushed to produce biodiesel. Jatropha is a drought-tolerant non-food crop that thrives on degraded and semi-arid lands and requires limited inputs.
Kisarawe District Council Chairman, Omar Mbegu Dibibi
said
during the recent full council meeting held in Kisarawe town that the company, which is UK registered, aims at becoming one of the biggest producers of biofuels in the world. Dibibi said during the full council meeting held on October 19, this year, that according to the MoU, the company would start with 9,000 hectares in phase one and later in the second phase proceed with another 9,000 hectares in the district. The company has applied for 3.4 hectares for use as nursery for the crop.
Tanzania has a considerable resource of arable land, standing at around 67.2 million hectares, of which some 3.5 million or 5.2% is currently used for food production (
FAO Terrastat
).
The project will create employment for poor farmers from the ten villages of Kidugalo, Mzenga, Vilabwa, Mitengwe, Chakenge, Kurui, Palaka, Marumbo, Muhaga and Mtamba in the district. They will be growing the jatropha crop [entry ends here].
biodiesel :: biomass :: bioenergy :: biofuels :: energy :: sustainability :: jatropha :: Tanzania ::