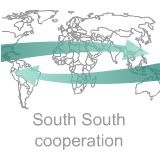 In an interesting example of South-South exchanges on biofuels, the Indian Government has provided US$250 million to the ECOWAS Bank for Investment and Development (EBID) for the establishment of a fund to promote biofuels in the West Africa sub-region. Ghana's Prof. Dominic Fobih, the Minister of Lands, Forestry and Mines, made the
announcement
at the end of a two-day international workshop on financing biofuels projects in West-Africa, held in Accra earlier this week (
earlier post
). India had already closed a bioenergy cooperation agreement with Senegal earlier this year (
earlier post
), but is now stepping up its involvement in the region.
In addition, a number of bilateral and multilateral forms of support is to be offered by donor countries for disbursement to farmers through the Adventist Development and Relief Agency (ADRA) to enable farmers to experiment in the cultivation of Jatropha curcas, a shrub used to produce biofuels.
Minister Fobih said the resources pooled at the conference would help countries and governments in the sub-region to adapt strategies to exploit the full potential of biofuels. He said EBID would play a significant role in the development of the renewable fuels in collaboration with the United Nations Conference on Trade and Development(UNCTAD).
Mr Bashiru Ifo, Managing Director of EBID, said the bank, in conjunction with commercial banks and other financial institutions, as a first step, would be financing a project costing US $35 million for the production of biodiesel in Ghana. He stated that the bank ultimately hoped to contribute as efficiently as possible to fighting unemployment and poverty throughout West-Africa by strengthening the economic and social benefits of biofuels:
biodiesel :: biomass :: bioenergy :: biofuels :: energy :: sustainability :: developing countries :: South-South :: UNCTAD :: ECOWAS :: West-Africa ::



He said the bank was supporting the initiative taken by some member states such as Ghana, Benin, Burkina Faso, Mali and Senegal in accordance with the provisions of the Kyoto Protocol, to reduce the greenhouse gas effect from 2008 to 2012.

He added that EBID would foster private and public partnership to develop biofuels from Jatropha through the financing of both agricultural and industrial production.

The Vice-President, Alhaji Aliu Mahama, who addressed the closing ceremony, said the need for alternative sources of energy became evident during the first energy crisis of the 1970s and that the significant macro-economic gains which the country had recorded during the past six years stood the risk of being nullified through the increasing cost of crude oil in recent times.

The Vice-President said the gains included a phenomenal lowering of inflation from over 50 per cent in 2001 to a single digit approximately, by the end of 2006.

He said this feat and associated benefits were quickly erased by the steep rise in crude oil prices on the world market at the beginning of this year.

He said Ghana was, therefore, determined to develop renewable energy as an alternative source to crude oil.

Alhaji Aliu Mahama said the government's policy was to support all viable private sector initiatives, that was why it had so far encouraged the development of Jatropha, which was a private sector initiative in the country.