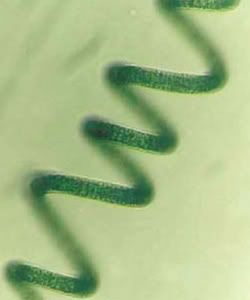 South African biofuels firm
De Beers Fuel Ltd
(also known as Infiniti Biodiesel)
announced
it plans to produce 16 to 24 billion litres of biodiesel a year from algae within five years with an initial investment of 3.5 billion rand (€372 million / US$490 million).
The company has bought licenses for 100,000 acres (40,470 hectares) to be developed into algae farms - for which the initial investment is targeted - and within five years from now the intention is to increase that land area to 800,000 acres (323,700 hectares).
De Beers Fuel - which is unrelated to the world's biggest diamond producer De Beers - said in a statement that South Africa uses about 8.1 billion litres of biodiesel yearly. De Beers Fuel already runs a plant which produces 144 000 litres of biodiesel daily from sunflower seed oil, at Naboomspruit in the northern Limpopo province. A biodiesel algae reactor installed at the plant will be showcased to investors, experts and the media later this week.
"The project is highly capital-intensive. The first 100 acres will require about R3.5bn, this has been sourced mainly from foreign private equity groups," Hendy Schoombee, a senior official at De Beers Fuel said. "We had initially intended to list the company to raise the money. We might list at a future date to raise money for further expansion," he added.
High yields, but doubts over costs
According to De Beers, one hectare of algae can yield some 37,000 liters of biodiesel (one acre produces roughly 24,000 gallons). These numbers are derived from studies carried out in the 1980s and 1990s, when several countries researched the feasibility of using algae as a biomass feedstock. One such study, carried by the US National Renewable Energy Laboratory under the discontinued
Aquatic Species Program
[*.pdf] concluded that large-scale algae production is not feasible given the high costs involved. Maybe with current high oil prices, the economics of the system have changed.
Algae only yield high and continuous amounts of biomass when they are grown in closed photo-bioreactors and under laboratory conditions. These reactors are extremely expensive and not suitable for large-scale applications. This is why the research discarded this option and assessed the production of algae in large open ponds instead. It found that under open pond conditions, algae cultures become unstable and biomass yields drop to levels below those of ordinary energy crops:
biodiesel :: biomass :: bioenergy :: biofuels :: energy :: sustainability :: algae :: photo-bioreactor :: South Africa ::

For this reason, there hasn't been any real large-scale production of algae for biofuels so far. Several companies have been experimenting with photo-bioreactors and announced 'breakthroughs' (earlier post) or expansion plans, but after a few years, no progress has been seen from any of these companies (earlier post). It remains to be seen whether De Beers Fuel will be different.

In any case, the company announced that it will use land that is not arable or useful for most other purposes, and will also generate electricity from waste material out of the biodiesel production process.

Its biodiesel will be targeted for industrial use and for future exports, and is based on technology supplied by a US company, GreenFuel Technologies Corporation, while Green Star Products, also of the US, will build the bio-diesel reactors (earlier post).