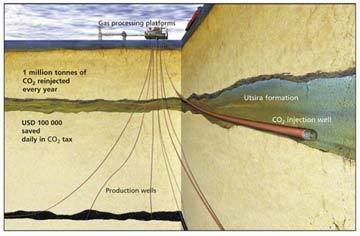 Plans to bury greenhouse gases under the sea should only be an emergency solution and guarantees must be sought that deposits are safely contained for thousands of years, German scientists say, comparing the time-scales needed to envision sequestration of the climate threatening waste-product to those of nuclear waste.
Presenting a report at a major U.N. climate meeting, the
German Advisory Council on Global Change
(WGBU) said storage of carbon dioxide under the seabed should only be used while developing better options to fight global warming.
"It is these superior options that particularly require political support, innovation and the employment of scarce resources," it said in the report. "Storing CO2 under the sea floor can only be an emergency solution for a transitional period," WGBU said.
"Permits for such measures should only be granted if they meet strict criteria ...(on) technical safety and above all the permanence of storage and its low environmental impact."
Earlier, American scientists carried out an actual carbon sequestration experiment and injected CO2 into a depleted oil field. They observed that the gas caused the minerals underground to dissolve, raising fresh doubts about carbon capture and storage technologies as a viable solution to global warming (
earlier post
).
The world's only commercial gas platform separating CO2 and reinjecting it under the seabed is operated in the North Sea by Norway's oil and gas group Statoil. Other projects are under way in nations including Canada and Algeria:
bioenergy :: biofuels :: energy :: sustainability :: climate change :: carbon :: sequestration :: fossil fuels :: emissions ::

Statoil's Sleipner platform has buried about one million tons of CO2 a year since 1996 in the Utsira reservoir, some 1,000 meters (3,280 ft) below the seabed. The carbon dioxide-free gas is piped to Norway and Europe for sale.

Statoil, Norway's biggest firm, has said it would like to be paid to bury CO2 produced by heavy industry in European countries that want to cut their emissions of greenhouse gases.

But WBGU said only part of the CO2 stored under the sea should be counted as prevented emissions when drawing up international climate policy.

"This is necessary in order to take the risk of leakage into account. Specific liability rules also need to be established," it said.

Presenting the report, WBGU scientist Stefan Rahmstorf said the retention period for CO2 such deposits should be at least 10,000 years. "We are talking in time frames almost like those of nuclear waste," Rahmstorf said.

Statoil says there have been no sign of leaks from Sleipner -- and that natural gas has stayed below ground for millions of years.