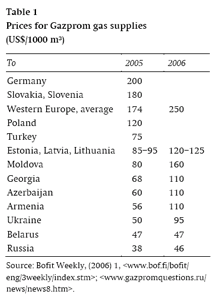 The Dutch Peak Oil foundation is publishing an interesting series of articles on Europe's dependence on Russian natural gas. In
part one
, it shows how Russia is playing out its natural gas policies against former Soviet republics and satellites in Eastern Europe. This is a first step in a strategy aimed at strangling Europe into ever-greater energy dependency. Below, we will show that in the long-run this might usher in an era in which Europe radically chooses for alternatives, such as biogas. When Ulrich Schmack, an energy advisor to the German government, recently said that biogas might replace
all
Russian gas imports by 2030, he obviously based his remarkable statement on the threatening developments in Russia (
earlier post
).
The mechanism with which Russia uses natural gas as a geopolitical weapon is easy to understand and shows how the country is gradually becoming a true
'petropolitist' state
. Once a supply contract for gas ends, Russia forces its clients into a simple 'choice': under the new contract you either pay the European market price for gas (which stands at US$ 250/1000m³) or you hand over a part of your infrastructure to Russia's state-owned companies.
The geopolitical and economic goals behind this strategy are two-fold: Russia wants to get total control over gas-pipelines to Europe, and secondly, it wants more cash-income so that it can tap new, difficult gas fields because production at its older fields is rapidly declining. All the while, Putin knows that the former Soviet-states and satellites can never pay the high European market price. This way, Russia can subject them politically (
overview
of how this strategy has operated over the past two years; the table showing the difference in prices between 2005 and 2006 nicely illustrates how Russia is systematically applying the same technique for all its new 'satellites').
Biogas to the rescue?
Europe feels that Russia is gradually building a trap of dependency and that its long-term energy security is steadily being jeopardized. This became apparent once again during the recent EU-Russia energy summit in Lahti (
earlier post
), which made it clear to all stakeholders that Russia will not play by the rules Europe prefers (open and transparent markets, shared control over infrastructures, the possibility for European companies to invest in Russia's energy resources,... Europe favors 'interdependency', Russia is tilting towards creating 'dependency').
Given the dire outlook of becoming overly reliant on an a single petropolitist state, it would be unwise for Europe not to look into alternatives. Because there are realistic pathways out of this dependency. One of the best candidates for Europe to diversify its energy portfolio is biogas, either locally produced or based on feedstocks that are internationally sourced:
bioenergy :: biofuels :: energy :: sustainability :: Russia :: EU :: natural gas :: biogas :: energy dependence :: energy security :: geopolitics ::


Recently, the German federal government held its own energy summit in which strategizing around renewables played a major role. Ulrich Schmack, co-founder of the world's largest biogas firm, Schmack Biogas AG, was invited to act as High Representative for Renewable Energies. At the eve of the summit, he made a surprising but visionary remark by saying that Germany can

entirely

cut Russian gas imports by 2030 by relying on biogas instead.

Schmack assessed Germany's biogas potential and its current investments in the green fuel and concluded that at the current pace of technological advancements and investments, the country would be producing 40 billion cubic metres of biogas by 2030. "At the end of 2005, Germany produced 10.5% of all its energy from renewable resources. Each year, the share increases by 2 to 3%. The math is simple: by 2030 and at this pace, green energy will have replaced a huge amount of fossil energy."

In Germany and elsewhere in Europe, biogas is already being produced on a massive scale using dedicated biogas energy crops (such as easily fermentable energy maize, or specially bred tropical grasses, with interesting experiments by the North-Sea Bioenergy Partnership). Large investments are being made in the sector, and some countries are already starting to mix the renewable gas into the natural gas grid. High-tech innovations are making this possible (amongst those biogas sensors, and algae-systems to purify biogas). And at current gas prices (€200/1000m³), the green alternative is already highly competitive.

Sound data and realistic projections made Schmack conclude the following: "In 2030 Germany will produce 40 billion cubic metres (1.4 trillion cubic feet) of biogas per year. By that time we don't need

any

gas from Russia any longer. The billions of Euros that flow out of the country now to Saudi Arabia and Russia, stay here and will benefit our economy." This way, "security of supply and buffers against price fluctuations are guaranteed", Schmack adds.

It seems that for Germany at least, a radical switch away from Russian natural gas, to locally produced biogas is not unrealistic. But what for the rest of Europe?



Biogas feedstocks as an international commodity


Biogas is obtained by the anaerobic fermentation of organic matter - either household, municipal, agricultural or industrial waste. But more and more, biogas is being produced from dedicated energy crops. Like all biofuel crops, dedicated biogas crops require land.

So if we start to think in terms of how much land for energy crops is actually available in Europe, we can quickly conclude that the continent does not have too much of it. Therefor, the continent might start to look elsewhere to source biogas feedstocks. As for liquid biofuel feedstocks, the Global South has competitive advantages over Europe when it comes to producing the raw material for the green gas: abundant land, favorable agro-climatic conditions, large rural populations who would gladly become energy producers.

Biogas feedstocks might be densified locally in the South, and transported to Europe by ship. As the IEA Bioenergy Task 40 study group found, even if such long-distance trade is involved, the competitive advantage of the South remains (earlier post).

In short, Europe's biogas future might be coupled to the development of bioenergy production zones in the South. For the production of liquid biofuels, such a strategy is mutually beneficial; no doubt the same holds for the production of biogas feedstocks. By thus diversifying its energy portfolio and its supplies, Europe can considerably increase its longterm energy security.

Over the long-run, Putin's aggressive natural gas politics might work against Russia; if the situation keeps deteriorating, Europeans will start considering alternative solutions. For the time being these alternatives might seem far-fetched, but on closer examination they are becoming feasible and even necessary. Ulrich Schmack, for one, is already convinced of their strength.



Thanks William!