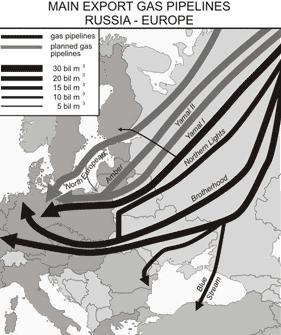 The longterm viability of the biofuels future depends on a great variety of factors. One of the more important ones is the security of fossil energy supplies. If the energy security brought by oil and gas comes under threat, the political will to promote and invest in renewable biofuels will become stronger. Bioenergy and biofuels - produced locally or imported from the global South - offer a strategy to diversify the portfolio of energy sources, thereby enhancing the security of supplies.
This is why we track energy security issues in the EU. The longterm picture doesn't look good, with increasing tensions over the Union's energy relationship with Russia. The Russian Federation accounts for some 44% of EU gas imports (25% of total consumption) and is the EU's single largest external supplier of oil, standing at 30% of total imports (27% of total consumption). These shares are expected to grow as the EU's North Sea reserves decline.
But with Russia gradually becoming a 'petropolitist' state that doesn't hesitate to use its energy resources as a political weapon (
earlier post
), it is no surprise to hear that pipeline politics once again dominate EU-Russia relations 10 days before a major energy summit between the two blocks, as
Poland threatens to veto the renewal of a 1997 energy agreement with the Kremlin
.
EU foreign ministers meeting in Brussels on 13 November will discuss building closer economic ties with Russia but their efforts could face a veto from Warsaw, which wants a tougher line taken with Moscow over energy. A ten-year old
Partnership and Cooperation Agreement
(PCA) [*.pdf] is being re-negotiated as the EU and Russia prepare to meet for a 24 November summit in Helsinki.
Failure to reach an agreement on the Energy Charter Treaty, which Russia seems to have definitely refused to ratify, has prompted the EU to seek incorporating the Charter's principles into the broader PCA. The principles include granting mutual access to energy markets and minimum guarantees for energy investments and transit.
But Wozniak insists that Russia signs the
Transit Protocol
of the Energy Charter, which is the most controversial part for Moscow. "We feel very unsafe in terms of energy supplies," Polish Economy Minister Piotr Wozniak told reporters on 10 November:
bioenergy :: biofuels :: energy :: sustainability :: fossil fuels :: natural gas :: energy security :: EU :: Russia ::

On a visit to Moscow on 30 October, Energy Commissioner Andris Piebalgs tried to find common ground. "We understand that the Russian Federation needs the predictability and certainty brought by the EU market as well as the huge new investments that European companies can bring," Piebalgs said. "The EU, on the other hand, needs the transparency and certainty that those investments will be made."

"There is a need for a level playing field in terms of market access and access to infrastructure, including non-discriminatory third-party access to pipelines in both Russia and the EU," Piebalgs added.