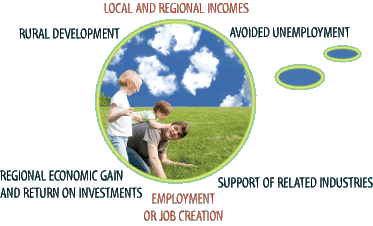 The
International Energy Agency
(IEA) has been running a comprehensive bioenergy research program for a number of years now.
IEA Bioenergy
aims to enhance international collaboration on research into biomass based fuels and systems, in order to accelerate the use of environmentally sound and cost-competitive bioenergy on a global scale to achieve a substantial contribution to future energy demands.
The IEA's bioenergy initiative is divided into several
'task forces'
, research groups with top experts in the field who focus on a particular aspect of biomass-based energy systems. 41 Tasks have been defined so far; Task 1 to 28 have been accomplished, whereas Task 29 to 41 are ongoing or have only recently been discontinued. They range from research topics as diverse as "Short Rotation Crops for Bioenergy Systems" (Task 30), "Biomass Combustion and Co-firing" (Task 32), "Pyrolysis of Biomass" (Task 34) to "Greenhouse Gas Balances of Biomass and Bioenergy Systems" (Task 38) and "Liquid Biofuels from Biomass" (Task 39).
We have been focusing a lot on
Task 40
lately, which involves research into "Sustainable International Bioenergy Trade". This taskforce has done research into the
global potential of biomass availability for bioenergy and exports
(from which we learned that
Africa has a huge potential
), and studies how supply and demand can be balanced on an international scale. Amongst other things it also looked at
international bioenergy transport costs and energy balance
, and analysed
steps towards the development of a certification system for sustainable bio-energy trade
.
From these in-depth studies it becomes apparent that international bioenergy trade is feasible and offers a chance for the Global South to compete on a world market. But knowing that a world market in which biofuel and biomass feedstocks are traded as commodities is feasible, is not enough. If they want to participate in this market, countries in the South have to analyse carefully which social and economic strategies are most suitable to actually implement bioenergy production projects. After all, getting such projects off the ground involves much more than purely technical or engineering issues; in fact, they often strand on a lack of insight into precisely these social, economic, political and even cultural contexts.
IEA Bioenergy
Task 29
addresses part of these important, broader questions and designs tools, techniques and methods to analyse them. This research group, uniting social scientists, economists and anthropologists alike, focuses on the "Socio-Economic Drivers in Implementing Bioenergy Projects". We want to have a closer look at its work.
For those who want a short-cut, here are some interesting
videos
on different socio-economic aspects of large-scale bioenergy projects: Bo Hektor talks about
Jobs and/or Earnings from bioenergy projects
[*.wmv/695 kB], Hayley Myles delves into
'Socio-economic modelling of bioenergy systems'
[*.wmv/985 kB], Horst Scheuer stresses the
'Importance of socio-economic aspects in Styria'
[*.wmv/799 kB] and Joe De Franceschi looks at the
'Role of biomass in development of remote communities'
[*.wmv/1.080 kB].
Task 29 is an ongoing initiative with the following aims:
bioenergy :: biofuels :: energy :: sustainability :: sociology :: anthropology :: economics :: employment :: rural development :: social impact assessments ::

*to achieve a better understanding of the social and economic drivers and impacts of establishing bioenergy markets at the local, regional, national and international level

*to synthesise and transfer to stakeholders critical knowledge and new information,

*to improve the assessment of the above mentioned impacts of biomass production and utilisation in order to increase the uptake of bioenergy and to provide guidance to policy makers.

The participating countries in the 2006 -2008 period are Austria, Canada, Croatia, Ireland, Japan, Norway and United Kingdom. In particular, the Task is seeking to investigate different regional and national achievements in recognition and evaluation of social and economic benefits of biomass utilisation and drivers in implementing bioenergy projects.

So far, the group published interesting country-based case-studies from Austria [*pdf], Croatia
[*pdf]
, Ireland and Japan
[*pdf]
.




Task 29's main reports


The taskforce's major research programmes have resulted in a set of comprehensive reports, which highlight the complexity of analysing socio-economic drivers of bioenergy projects [all files are in *.pdf format]:

Reinhard Madlener and Hayley Myles, 2000, Modelling Socio-Economic Aspects of Bioenergy Systems - Report prepared for Task 29.

Bo Hektor, 2001, Socio-economic management models for bioenergy sector - Report prepared for Task 29.

Julije Domac, Reinhard Madlener and Keith Richards, 2000, Socio-economic aspects of bioenergy systems – a new international research cooperation within IEA Bioenergy Presented at 1st World Biomass Conference.

Julije Domac and Keith Richards, 2002, Final results from IEA Bioenergy Task 29 Presented at 12th European Biomass Conference.

Julije Domac et al, 2004, Educational work of IEA Bioenergy Task 29, Presented at 2nd World Biomass Conference.

Julije Domac, Keith Richards, Velimir Segon, 2005, Old fuel for modern times Published in Renewable Energy World, July 2005.

Velimir Segon et al, 2004, Raising the awareness of bioenergy benefits: Results of two public surveys on attitudes, perceptions and knowledge, Presented at 2nd World Biomass Conference.

Ralph E.H. Sims and Keith Richards, 2004, Bioenergy for the global community
Article in 'Renewable Energy World', 7(1), 128-133 (James & James, London) .

Keith Richards and David Payne, 2002, Translating Renewable Energy Regional Strategy into Local Action (TRANS-RELATE) Paper to European Conference on Local Energy Action, Brussels, Belgium.

Keith Richards and Ralph E.H. Sims, 2002, Delivering the Bioenergy Triple Bottom Line to the Global Community, Paper to 7th World Renewable Energy Congress, Cologne, Germany.




A wealth of studies


But especially the group's workshops have resulted in a wide array of fascinating studies. Since these papers are not indexed and do not appear in search engines, we did the effort of opening the archives to present them here, so that they become more accessible to a larger audience. We can only highlight some topics.

Participants at the

2001 workshop in Alberta, Canada

presented research about such diverse issues as:

'From the Grandma-image to the must have-image' The Styrian Story [*.pdf], Horst Scheuer.
Since its creation the Energy Agency Styria has been working on the promotion and expansion of Biomass-heating plants. In particular since the mid-80ies over 100 biomass district heating networks in Styrian communities have been installed under the intensive co-work of the Energy Agency Styria together with the national energy representative, the energy advisory bureau and the administrative chamber for agriculture and forestry. Here the task of the Energy Agency Styria was the counselling during the actual implementation, i.e e.g. pre-estimations about feasibility and economy. These aspects were calculated with individually developed EDP-programmes (BIOWIRT and BIOPLAN). A manual for operators of such plants was also written (manual distant-heating - district heating with Biomass), which describes the entire way from the original idea to the establishment of such a districtheating plant.
Another essential part of Energy Agency Styria's work in relation to Biomass-district heating was and is to help with the solution of problems as they occur ("trouble shooting"). Only through the establishment of a sample-grant application could the normally very long duration of the processing of such applications from the Government be accelerated enormously. Together with the energy advisory bureau of Styria the Energy Agency Styria also did some intensive advisory work for ultimate consumers who obtain heat from these plants.

Socio-Economic Modelling of Bioenergy Systems [*.pdf], Hayley Myles
The following paper presents two practical applications of using quantitative modelling tools to determine the socio-economic impact of bioenergy systems. By first presenting the differing drivers and therefore the output requirements of quantitative socio-economic modelling, the paper demonstrated two contrasting methodologies for capturing wealth and employment effects at national and regional level. In addition to the quantitative aspect, it also questioned the reasoning behind the analysis and how the input to, and output from, the investigation inter-play with project realisation in terms of stakeholder involvement.

Bioenergy Opportunities and Climate Change - an Assessment from the IPCC Third Assessment Report [*.pdf], Ralph E H Sims
The Third Assessment Report (TAR) of the United Nations' Intergovernmental Panel for Climate Change (IPCC) shows there is a range of Renewable Energy options together with hundreds of Energy Efficiency technology solutions that could be implemented over the next 20 years to help reduce greenhouse gas emissions. Significant global business opportunities will result from the near term potential for such industries, their business earning capacity and their high employment potential. The IPCC report covers all six greenhouse gases, though this paper concentrates on carbon dioxide and the role that the Bioenergy industry might play in reducing its emissions.


Renewable Energy Integrated Power Supply Systems for Rural Communities [*.pdf], Phil Murray and Ralph E. H. Sims.
Rural communities of New Zealand may have their electricity supplies and services cut in the future. The Electricity Act 1992 states that existing power lines must be maintained until 2013 but after this their fate depends upon the profit motives of the new and commercially orientated lines companies. An opportunity exists for rural communities to generate their own power using local renewable energy resources such as forest residues and sell excess power to the wholesale electricity market. Relevant to this are rapidly developing small scale bioenergy generation technologies; the global trend towards distributed electricity generation; New Zealand's commitments to climate change and carbon emissions trading; power quality, controls and supply reliability; and the pending legislation changes which will encourage small scale embedded generation.

Socio-Economic Management Models for the Bioenergy Sector [*.pdf], Bo Hektor.
Energy programmes and projects include a wide range of various aspects and factors, i.a. technology, economy, security of supply, and basic elements for development and well-being. Thus, energy relates not only to techniques, but to a great extent to socio-economics. In the neo-classic economic models the socio-economic effects are expressed in terms of new jobs, and additional income formation. However, when regarding socio-economics from managerial points of view, socio-economics driving forces and obstacles are important in the management of planning, implementation, and operational phases, as well as for ex post evaluation of project and programmes. These driving forces and obstacles are based on the subjective perceived values of a project or a programme in the minds of individuals and organisations. In this paper three types of application areas of management models are identified and described. The application areas are distinguished by the leading roles of the various actors in the three typical cases.

The Contribution of Bioenergy Systems on a National Level – Case Study for Croatia [*.pdf], Julije Domac.
Economic development is closely correlated with the availability and utilization of modern energy sources. It is now clear that current approaches to energy are non-sustainable and not renewable. Together with hydro, wind, solar and geothermal energy sources, biomass is considered as essential factor of the future renewable energy strategies. Use of biomass and different biofuels offers a wide range of social and economic benefits and contribution, especially in remote and rural areas development. One of these additional benefits, which were gained attraction, is the opportunity to create new, local jobs. It is of course that high rate of unemployment in most parts of Croatia and associated high costs and loses, should lead to increased interest for creating new permanent jobs that are economically and socially useful. There are many difficulties in summarising or comparing effects of biomass use due to differences in biofuels supply systems, ways of calculation, definitions of limits, technology, etc. To calculate the manpower requirement in a new rapidly developing branch of business is no exact science, but rather a qualified estimate, especially in Croatian conditions. This paper deals with preliminary estimation of biomass usage contribution to creation of new jobs in Croatia. These results are a part of activities of the BIOEN Program (National energy program of biomass and waste use) and they are recognised and evaluated in recently published Energy Strategy of the Republic of Croatia.


Participants at the

2003 workshop in Stratley, UK

wrote about such diverse issues as:

Contribution from bioenergy to local economic development - a Norwegian case study [*.pdf], Anders Lunnan.
Bioenergy projects make a significant contribution to rural communities. One indicator of this contribution is the direct and indirect employment caused by the projects. It can be argued that employment has an extra value in a rural context, in the Norwegian case this can be deduced from the public regional policy. In 1985 a study of the region of Hadeland was undertaken and the utilisation was of biomass for energy purposes was in the optimistic case estimated to increase from 40 Twh to 100 Twh. Built upon these prognosis possible employment effects was also estimated. A study in 2003 shows that bioenergy has grown from 40 to 60 Twh. The employment effects are much smaller than anticipated in the harvesting part of the value chain, but interesting enough some new jobs has been established in education, consulting and transport. The firm Energigården is the engine in the bioenergy development in Hadeland and the history of the firm is a good illustration of the importance of good extension work. In 2003 21 firms was asked about their views on future development of the bioenergy sector in Hadeland. More than half of the firms answered that they would increase their activities and they thought that bioenergy would be more competetive in the years to come.

The 1998 Ice Storms: Results from a Survey of Households in Eastern Canada and Northeastern US [*.pdf], Pamela Jagger et al.
Extreme weather events such as the ice storm that affected eastern Canada and the Northeastern US in January of 1998 have significant impacts on both human populations and forests. This case study examines the economic impacts of the ice storm on the residential market for fuelwood. It is hypothesized that demand for fuelwood will increase due to the failure of non-wood heating sources during the ice storm. In addition, damage to trees in the region should increase the supply of fuelwood; the net effect of these outward shifts of supply and demand on price is not known. A household level survey administered to over one thousand households indicates that less than half of the households in the affected region relied on wood burning technologies as a source of heat for their homes at the time of the storm. However, those households with wood burning technologies were better able to manage during the ice storm. Forest managers or forest product producers who have information regarding extreme weather events have the option to undertake various management strategies to lessen the economic and biophysical impacts of ice storms on forests.

Bioenergy Education and Training in Ireland – Experience and Future Priorities [*.pdf], Clifford Guest et al.
There is considerable potential to develop bioenergy as a major contributor to Ireland's Total Primary Energy Requirement, however currently its contribution is low. In order to develop this potential various initiatives will be needed including the delivery of quality education and training to potential project developers, policy makers and development agencies. Tipperary Institute (TI) has been involved in this sector since 1996 and has participated in a number of projects including two which saw Institute staff being trained by expert partners in Sweden, Denmark and Ireland. In its work TI has seen a continual increase in the level of interest in bioenergy and a move from general enquires to more specific requests for information and training. In response TI have delivered many workshops and training sessions and launched a Certificate in Renewable Energy in 2001. It is hoped that this initiative will be followed with further certificates, diplomas, degrees and masters programmes in the longer term and that the Institute will continue to deliver one off training events workshops and conferences.

Climate protection and bio-energy - What's in it for a politician? Sarah Nilsson and Bo Frank.
When promoting introduction of bio-energy at local level, local politicians is an important group. This paper contains two parts that describe how a base for understanding of and commitment to sustainable development is formed and lost.
The first part describes parts of the practical process to become a fossil fuels free city, successes and failures. The second part expresses the view of a conservative politician that is convinced of the importance of sustainable development and states the importance of taking responsibility at local level. The conclusion is that information, knowledge and dialog are the best tools to achieve political commitment but it has to be continuous and person-to-person.

Visualising socio-economic data at the regional level [*.pdf], K.M. Richards et al.
TV Energy (TVE), in partnership with Regional Government in the south east of England, has embarked on a new initiative called 'SEE-Stats' (South East England Renewable Energy Statistics) to track and monitor renewable energy projects. TVE will use methodologies developed for UK national, European and IEA statistics gathering and adapt them to local circumstances. The data to be gathered will show the size and nature of projects, recording MWhe and MWhth produced along with other physical data. In this way, TVE will enable regional and local Government and others to track developments and determine whether agreed targets are likely to be met. SEE-STATS will also record socio-economic data on a project-by-project basis. As far as is known, this will be a first attempt to carry out such a task. Data to be recorded will include: jobs created or sustained, new business start-ups, training and educational benefits, health benefits and community benefits. The initiative will link closely to the IEA Bioenergy Task 29 examining socio-economic issues. The results and ongoing work of SEE-STATS will be updated regularly on a website www.seestats.org.

The Socio-economic Analysis of Energy Use in a small New Zealand Rural Community – an update [*pdf], Ralph E H Sims et al.
The Totara Valley community is a collection of three farms and worker cottages 30 kms from Woodville, New Zealand. This community is currently heavily reliant on the electrical distribution network for their energy requirements but they, in close association with Massey University and IRL, are evaluating options to produce some of their heat and power demand from local resources. The site power demand has been monitored for over 3 years, the renewable energy resources have been identified and some conversion technologies installed.

Who's For Renewable Energy and Why? Answers from a Sample Survey in Reading [*.pdf], Deborah Støer and Keming Yang
Conducting an urban residential survey in a large town such as Reading was seen as an important public opinion survey, and a useful mechanism for exploring attitudes and perceptions of Reading residents towards environmental awareness, energy efficiency and renewable energy acceptance in the Borough.

The Growing European Bio-Energy Market - Bioenergy Programme in Russia (BIPIR) [*.pdf], Ole Veiby
The paper summarises findings in 2 studies conducted by the Vekst Foundation, funded by the Royal Norwegian Ministry pf Foreign Affairs and by grant from United Nations Fund for International Partnership (UNFIP)
(1) "The Growing European Bioenergy Market" dated August 2002 in cooperation with Bioenergy International an organisation associated with the Swedish Bio Energy Association, and (2) "Bio-Energy Programme in Russia (BIPIR) dated 2002.
The studies have been developed in cooperation with the United Nations Economic Commission of Europe (UN ECE) EE-21 Project and will be published as a UN ECE Energy Series. The studies are available on the Vekst web.site; www.vekst.no The studies discuss only bio energy in the form wood biomass from forests, forestry and wood processing industries Present use of Renewable Energy Sources (RE) in Europe is ~ 900 TWh (6% of gross domestic consumption) to be increased to more than 2000 TWh (12 %) by year 2010 to comply EU White Book on Energy.
The present market is characterised by; (i) lack of large scale commercial take-off, (ii) high biomass and technology cost, (iii) absence of stable legal framework and incentive schemes, (iv) lack of cooperation between Industry and Agriculture Organisation (on biomass supply), (v) lack of knowledge and information.
Key factors for improvements are; (i) effective low-cost biomass supply, (ii) standardisation of costeffective efficient technologies. (iii) integrated bio-energy complexes, (iv) national support and incentive schemes and foreseeable policy framework.

Recent Expansion of Bioenergy Utilization in Japan - Subjects and Countermeasures [*pdf], Tatsuo Yagishita and Shin-ichi Ueda.
After the last Croatia meeting, there are two major topics on Biomass. One is "Biomass Nippon" Strategy Plan, which is a total strategy from the harvest to the utilization, and another is Renewable Portfolio Standard. Some subsidies for bioenergy utilization are also provided from METI and NEDO. In this paper, we surveyed the facilities already installed and analyzed the distribution of the treatment scale.


In 2004 there was a

workshop in Ysukuba, Japan

where participants wrote about such diverse issues as:

Wood Fuel Sources and Markets [*.pdf], Auke Koopmans.
Woodfuels are an important source of energy for most of the member countries of the Regional Wood Energy Development Programme or RWEDP. Unfortunately, statistics on the consumption are hard to come by and this is equally true for related issues such as who is involved in the growing, cutting, transporting, trading, use, etc. However, by tracing woodfuel flows and by focusing on woodfuel market mechanisms some insight can be gained with regard to the understanding on how and under what conditions woodfuels move from a source to the users as well as on the importance of the various stakeholders involved. A major conclusion, which can be drawn from the studies is that, the woodfuel trade system can be very simple and straightforward but at the same time may be a complex system with sometimes up to 7-8 intermediaries involved. Both systems can co-exist; even in the same area e.g. one system does not exclude the use of other systems.

The Biomass Asia Project [*.pdf], Akio Nishijima
Since 2001, Japanese Government is promoting technology development and introducing bioenergy in local area. However, there are many barriers to utilization of biomass resources with large scale. On the other hand, the biomass potential of Asia is prominent at a world level. National Institute of Advanced Industrial Science and Technology (AIST) proposed a Concept Biomass Asia that will build collaboration between Asian countries. Now, we just launched forth into Biomass Asia Project.

Case Studies of Bioenergy Projects in the Republic of Ireland [*.pdf], Kevin Healion.
Tipperary Institute has undertaken case studies of bioenergy projects in the Republic of Ireland. This paper outlines two of the projects examined. It summarises the drivers in implementing the projects, records the barriers encountered by the project developers, lists the impacts of the projects and identifies the stakeholders. The two projects have a number of drivers in common: a strong focus (commercial or philosophical); international linkages for expertise and technology; and financial support from EU or Government. It is hoped that this paper and the case studies themselves will improve the understanding of bioenergy project development in Ireland, and thus assist in the construction of additional projects which maximise bioenergy's social, economic and environmental benefits.




Information for larger audiences



Besides these workshop presentations and reports, the IEA Bioenergy Task 29 website hosts a series of powerpoint presentations, brochures, videos and posters which explain its goals and work in simplified terms.