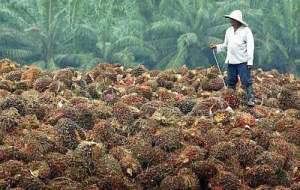 As part of Indonesia's efforts to implement its bioenergy crash program (
earlier post
), state-owned Bank Rakyat Indonesia (BRI)
announced
it is ready to extend up to 4 trillion rupiah (€333million/US$439 million) in loans to the agricultural sector, including for the development of biofuel plantations and downstream activities by small and medium enterprises.
According to BRI president Sofyan Basyir, the bank has so far received applications from 24 potential large borrowers who manage a total of some 120,000 hectares of sugarcane and oil-palm plantations. But focus is on small to medium sized companies as well. "The total amount of loans will be around Rp 3 trillion to 4 trillion. BRI plans to participate in the government's plan to revitalize the agricultural sector," he told reporters Monday on the sidelines of a workshop on loans for rural alternative energy development, organized jointly with the
Asia-Pacific Rural Agricultural Credit Association
(APRACA), Bank Indonesia and Bukopin.
No charity or subsidies
Indonesia's biofuel crash program, which will see investments worth around €17billion (US$ 22 billion), is estimated to bring around 2.5 million jobs in three years time. As such it is presented as a major opportunity to alleviate poverty and strengthen the livelihoods of rural communities (
earlier post
).
However, BI Governor Burhanuddin Abdullah cautioned against providing subsidized loans as part of the effort to encourage a massive expansion of the alternative energy sector: "Such a temptation could become even greater when rural development and poverty reduction schemes are included in the equation," he said.
"But cross-country experience has shown that subsidized credit schemes are actually the worst strategy for developing pro-poor enterprises. Such schemes create disincentives, hamper market development and tend to breed collusive rent-seeking activities." Burhanuddin, therefore, said it would be better to develop alternative market-based credit schemes to ensure financing for rural small and medium-sized enterprises (SMEs) that were actually venturing into biofuel production:
ethanol :: biodiesel :: bioenergy :: biofuels :: energy :: sustainability :: agricultural credits :: finance :: poverty alleviation :: Indonesia ::

Given recent oil-price volatility, Indonesia has decided to develop alternative energy sources in the form of biofuels, counting on its huge potential for sugarcane, cassava, oil palm and jatropha cultivation, feedstocks which can be used to produce biodiesel and ethanol. The government plans to allocate up to 6.5 million hectares of idle land for biofuel plantation development in an effort to produce enough biofuel to replace 10 percent of the country's total oil-based fuel consumption - which reached 70 million kiloliters last year - by 2010 (earlier post).

For this purpose, it also plans to set aside 13 trillion rupiah in budgetary funding to improve agricultural infrastructure (road, rail, ports), and subsidize the cost of procuring seedlings and paying interest on loans. Financial support for the country's venture into biofuels is also expected to come from the banking sector, with lenders ready to extend up to 20 trillion rupiah in biofuel-related loans.

In a separate statement, Bayu Krisnamurti, a deputy to the coordinating minister for the economy, said the export potential of biofuels to Europe could reach 1.5 million tons by 2010. Investments in the biofuel sector had reached some Rp 12.4 trillion this year alone, the Investment Coordinating Board had earlier said.(06)