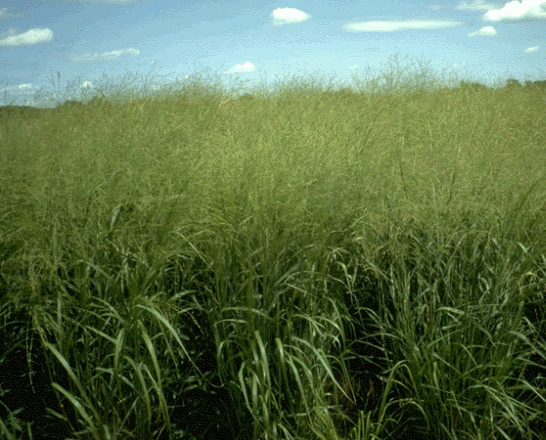 Canadian renewable energy researchers are following in the footsteps of their European collegues by focusing efforts on using grass species for the production of biogas and solid biofuels that can be used as a transport fuel and for electricity production. According to the researchers, this offers a much more efficient bioenergy production path. In Europe, several experiments are already underway aimed at producing biogas from dedicated herbaceous energy crops (
earlier post
), such as
sudan grass
, sorghum and new hybrids. A recent comprehensive well-to-wheel study of more than 70 different fuels and fuel paths carried out by the EU's Joint Research Centre, showed that biogas is both efficient to produce and is the cleanest of all transport fuels (
earlier post
). Finally, many trials are underway with the production of solid biomass (pellets, briquettes) based on grass species such as
Miscanthus giganteus
(elephant grass) for the production of electricity through simple combustion (
earlier post
).
Fuel produced from biomass, like switchgrass (
Panicum virgatum
), can not only reduce greenhouse gas emissions and dependence on fossil fuels, but it can do so at a fraction of the cost of ethanol and biodiesel,
says
Roger Samson of
Resource Efficient Agricultural Production
(REAP) Canada, a research and international development organization creating ecological solutions for food, fibre and energy production challenges.
Samson made his plea for the use of grass as a biofuel feedstock at a seminar sponsored by the Frontier Centre for Public Policy in Regina. "The opportunity exists to produce gas from grass or pellets from grass and heat buildings or even use it for transport. This (biomass) is a very viable option for the transportation sector".
Yet governments continue to pour millions into subsidies to produce ethanol and biodiesel, which are less energy efficient than biogas produced from switchgrass, said Samson, who's been working in the field of bioenergy development since 1991. "From an energy perspective, it's the wrong thing to do as a main (bioenergy) strategy," Samson said. "The only thing sustaining biofuels like corn-based ethanol or biodiesel are subsidies from the taxpayer.''
Energy balance
Biomass is far more efficient from an energy consumption point of view. Switchgrass pellet fuel has a ratio of energy production to consumption (energy balance) of 14 to 1, compared with only 1.5 to 1 for corn-based ethanol.
Switchgrass loses only five per cent of its energy in conversion to fuel pellets. "The more sophisticated we get in our conversion process," such as converting coal to electricity, the more energy is lost, he added. From an economic perspective, converting switchgrass into pellets and burning them to heat buildings is much more cost-effective than burning ethanol or biodiesel:
biomass :: bioenergy :: biofuels :: energy :: sustainability :: energy balance :: switchgrass :: miscanthus :: biogas :: bioheat :: fuel pellets :: savannah ::

And biomass fuel pellets are also more sustainable than either ethanol or biodiesel in terms of the amount of energy produced relative to an equivalent amount of fossil fuel energy. Samson said a ratio of four-to-one or higher is considered sustainable:

"Anything above four to one is where we should be focusing our resources. Anything below four to one, we should take them off the biofuels roadmap," Samson said. With nearly half the arable land in Canada, Saskatchewan is well-positioned to reap the benefits of this approach to biofuels production, he added.

Paul Jefferson, a research scientist at the Agriculture Canada research centre in Swift Current, said recent studies showed certain types of U.S. switchgrass could be grown in Saskatchewan, but Canadian varieties should be developed for our harsher climate and shorter growing season.



Tropical savannahs


Outside North America, there's a geat opportunity for the production of grass-based biofuels in the tropics and subtropics. The savannahs in this part of the world are the original ecosystem where many of the grasses now used in the North for energy production come from (such as sudan grass and miscanthus).

Tropical grasses grow easily, follow the highly efficient C-4 path of photosynthesis, and have a growing area potentially much larger than that of traditional energy crops (such as soy or palm oil or maize).

So far, there is only one major company involved in growing grass for the production of solid biomass in the tropics (the Biomass Investment Group who's planting miscanthus in the Philippines - earlier post), but as research into this energy production path advances, more initiatives will arise.

Research into large-scale export-oriented bioenergy production in the Global South, shows that such biomass would have to be densified or converted locally (either turned into fuel pellets and briquettes, or thermochemically converted into pyrolysis oil) and then shipped to importers up North. Transport costs are marginal and the fuels would still be considerably less costly than biofuels produced in the North, simply because the agro-ecological circumstances (growing season, land potential, sunshine, rain) are much more favorable for the production of grass based biofuels, than in more temperate climates.