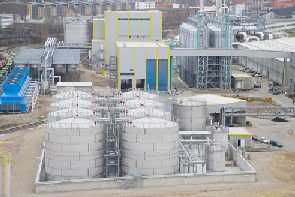 German company
Südzucker
, Europe's largest ethanol producer with over 50 sugar factories,
announced
it is in the process of signing an agreement with the Chilean government to develop biofuels in the Latin American country.
CropEnergies
, a subsidiary of Südzucker, opened the Orafti inulin plant earlier this year in Chile. The plant extracts the soluble fiber inulin from chicory for use in foods. The company is now looking to expand its operations in Chile, developing both biodiesel and bioethanol from wheat and sugar beet.
Südzucker's investment, which is expected to be big, will help President Michelle Bachelet deliver on her election promise to diversify and expand Chile's energy sources. Bachelet pledged that 15 percent of the nation's energy should come from alternative, renewable sources by 2010.
"The production space is available. We can increase our current production of 300,000 hectares of wheat to 700,000 hectares."

- Álvaro Rojas, Minister of Agriculture.

Before starting operations in Chile, CropEnergies will have to meet regulatory standards set by the government. In turn, Chile's government will have to guarantee feedstock supplies, which involves increasing the amount of arable land used for the production of the energy crops.
ethanol :: biodiesel :: biomass :: bioenergy :: biofuels :: energy :: sustainability :: wheat :: sugar beet :: Chile ::

Based in Zeitz, Germany, CropEnergies operates Europe's largest bioethanol plant. The company's predicted turnover for 2006 is US$160 million, which translates into 210,000 cubic meters of bioethanol. Currently using wheat and barley as base products, the company will start production from sugar in 2007.

"With biofuels we can reduce the surplus of agricultural products in Europe," said CropEneries vicepresident Lutz Guderjahn. "We can ensure work for farmers, comply with environmental law and be less dependent on foreign fuel."

While Germany is the world's largest producer of biodiesel with 65 percent of the market, Brazil and the U.S. dominate production of bioethanol with 45 and 44 percent of the market, respectively. In Brazil, all fuels are 25 percent ethanol by law, making it a global leader in the search for eco-friendly energy. Chile could soon look forward to following its lead.

Pressure from soaring oil prices and growing environmental constraints such as global warming are creating momentum for a major international switch from fossil fuels to renewable bioenergy fuels derived from sugar cane or sunflower seeds, according to an April report by the United Nations Food and Agriculture Organization (FAO).

"The gradual move away from oil has begun. Over the next 15 to 20 years we may see biofuels providing a full 25 per cent of the world's energy needs," said Alexander Müller, the new Assistant Director-General for the FAO's Sustainable Development Department.

FAO's interest in bio-energy stems from the positive impact which energy crops are expected to have on rural economies and the opportunity offered countries to diversify their energy sources.

"At the very least it could mean a new lease of life for commodities such as sugar, whose international prices have plummeted," noted FAO's Senior Energy Coordinator Gustavo Best.

Global warming and the Kyoto Protocol's curbs on emissions of carbon dioxide and other greenhouse gasses are among the many pressures pushing for the shift from fossil fuels.

"Oil at more than 70 dollars a barrel makes bio-energy potentially more competitive," Müller said. "Also, in the last decade global environmental concerns and energy consumption patterns have built up pressure to introduce more renewable energy into national energy plans and to reduce reliance on fossil fuels."

FAO has highlighted Brazil as an example for the rest of the world. Latin America's largest country is the world's biggest producer of bio-ethanol and one million Brazilian cars already run on fuel made from sugar cane, with most new cars powered by "flex fuel" engines. Introduced three years ago they use either gasoline or bioethanol, or any mix of the two.

Europe lags well behind Brazil in bio-ethanol production and consumption, but the European Union (EU) has set itself the target of increasing the share of bio-fuels in transport to eight percent by 2015. However, if oil prices stay high, things could move even faster, FAO noted.

Europe is already the world's largest producer of bio-diesel, now made from rapeseed, soy or sunflower seeds.

"The beauty of bioenergy is that production can be tailored to local environments and energy needs," Mr. Best said. "Where there's land, where there're farmers, where there's interest, bioenergy may be the best option. And if we add some sound analysis and good business models, we will get that option right."

Best stressed that FAO was focusing on the likely benefits for small farmers. One hazard is that large-scale promotion of bio-energy relying on intensive cash-crop monocultures could see the sector dominated by a few agro-energy giants, without any significant gains for small farmers.