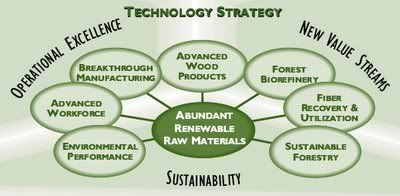 In this era of high fossil fuel prices, global warming and unsustainable consumption, many are starting to look at the 'bioeconomy' as a new industrial paradigm that can tackle our most pressing issues by relying on energy, raw materials and products derived from biomass and no longer on climate destroying petroleum, coal and natural gas. In this context, a lot of public attention and scientific research is focused on energy crops grown for the production of biofuels and biomaterials. Less well known is the fact that existing forests too can contribute in a significant way to the growth of the high-tech bioeconomy.
Scott Miller of
BioconversionBlog
wrote an interesting article illustrating how the United States is reviving its forest products industry with these goals in mind. The program may stimulate other countries in looking at their forestry sector with new eyes. Recently released is the
Forest Products Industry Technology Roadmap
[*.pdf] which provides a framework for reinventing and reinvigorating the industry through technological innovations in processes, materials, and markets. The Roadmap provides a summary of priority technical challenges and research needs of the U.S. forest products industry, and highlights opportunities for partnerships with researchers and funding organizations.
Seven Technology Platforms provide focus for R&D:
Advancing the Forest "Bio-Refinery"

Sustainable Forest Productivity

Breakthrough Manufacturing Technologies

Advancing the Wood Products Revolution

Next Generation Fiber Recovery and Utilization

Positively Impacting the Environment

Technologically Advanced Workforce
According to Miller, the time for a technological renaissance is now. Not only is demand for change the greatest that it has ever been, but also the "aging process infrastructure" of the industry is reaching the end of its lifecycle. Due to be replaced are Tomlinson boilers and other biomass- or fossil fuel-based boilers that are used for energy production and chemical recovery:
biomass :: bioenergy :: biofuels :: energy :: sustainability :: climate change :: forests :: forest products :: wood :: biorefineries :: bioeconomy ::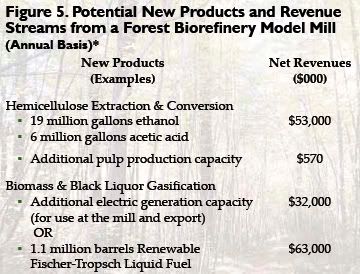 The FPI is calling for new investment in what it calls "Forest Biorefineries". Utilizing emerging technologies, these "optimized forest biorefineries would produce new streams of biomass-derived, high-value chemicals, fuels, and electric power while continuing to meet the growing demand for traditional wood, pulp, and paper products. This evolution could more than double economic returns on the industry's manufacturing assets, create a significant U.S. manufacturing base for renewable transportation fuels, and help meet the nation's need for clean, diverse, domestic energy supplies."

In addition to fulfilling functions such as providing combined process heat and power and/or recovering the pulping chemicals for re-use, the gasifiers would produce syngas, consisting largely of hydrogen and carbon monoxide. Depending on the economics of the situation, the syngas could then be burned in gas turbines to produce steam and power, used as a replacement for fossil fuels (such as natural gas in a lime kiln or fuel oil in a power boiler), or converted into transportation fuels, including Fischer-Tropsch liquid fuels or pure hydrogen.