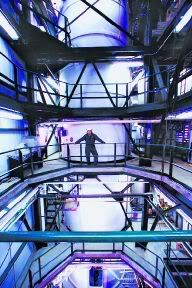 Major oil companies have been conspicuously absent from biofuels production so far, but they are
set to play a bigger role
with the advent of new technology that better fits oil industry skills. Global biofuels output has soared in recent years amid Western governments' concerns about security of energy supply and global warming.
The industry so far has been led by small independent producers such as Switzerland's Biopetrol Industries AG and by large agribusinesses such as US trader Cargill and Illinois-based Archer Daniels Midland.
The oil companies' lack of involvement is partly due to the relatively small size of the market – around 1% of global road-transport fuel consumption in 2005, according to the International Energy Agency. Critics also point to the industry's long history of conservatism.
But oil executives say technology is a key problem, because the current first generation of biofuels technology gives a competitive edge to agribusinesses rather than oil companies.
The simple manufacturing processes employed today mean that the key to profitability in biofuels production is feedstock costs. Access to cheap seeds and grain provides an edge, not expertise in operating complex facilities, the oil companies' speciality.
Oil companies are developing new technologies that will allow them to create a biofuels business model that looks a lot more like the one they are used to.
First versus second generation
Biofuels come in two main forms – biodiesel and ethanol. Under simple 'first-generation' technology, biodiesel is made by mixing vegetable oils and animal fats with alcohol. Gasoline substitute ethanol is made by distilling corn, sugar cane or sugar beet.
ethanol
::
biodiesel
::
biobutanol
::
biomass
::
bioenergy
::
biofuels
::
energy
::
sustainability
::
cellulosic ethanol
::
biomass-to-liquids
::
oil companies
::

To increase use, governments in Europe and the US are bringing in rules that force oil retailers to include a percentage of biofuels in the motor fuels they sell.
This has prompted some refiners such Hungary's MOL and Spain's Cepsa to announce first-generation schemes.

However, a more wholehearted move by oil companies into the sector hinges on the use of technology that shifts the economic power away from the feedstock onto infrastructure.

So-called 'second-generation' processes involve thermochemical biomass-to-liquids technologies such as producing syngas from cellulose-rich material, including straw and waste lumber, which is then converted into synthetic liquid fuels by, for example, the Fischer-Tropsch reaction. Biochemical conversion technologies consist of fermenting cellulosic feedstocks by specially designed enzymes (

picture:

Iogen's experimental fermentor).

Oil majors used to capital-intensive projects


The feedstock costs much less than vegetable oils, and less land is needed to produce a given quantity of fuel. The capital costs are higher, but this is no deterrent to a cash-rich sector used to investing billions in single projects.

"We believe oil majors will play a significant direct investment role only in second-generation technologies," investment bank Morgan Stanley recently said in a research note. Oil major Royal Dutch Shell Plc plans to build a biomass-to-liquids plant with German company Choren Industries, which Goldman Sachs estimates will cost around $2,000 per tonne of capacity to construct, compared with $190 per tonne for a first-generation plant Biopetrol plans to build in Rotterdam.

Second-generation techniques have the potential to produce fuel more efficiently and cheaply, which could dislodge first-generation producers, but it won't happen in this decade.

The Shell/Choren plant and another plant Shell plans with US biotech firm Iogen Corp to produce cellulose ethanol are not expected to be up and running before 2009. At Chevron Corp and BP Plc, second-generation activities are mainly at the research stage.

Eager to become involved sooner but unhappy with the economics of first-generation technology, some European oil companies are backing a new technology developed by Finnish refiner Neste Oil. Neste's NExBTL system can use cheaper feedstock and produces a biodiesel that can be used in current engines without being blended with mineral diesel. Neste is building a NExBTL plant near Helsinki and plans two more units with OMV and French oil major Total.

"If you want to be a leader there, you need to be a leader in technology," said Neste Chief Executive Risto Rinne.

The NExBTL plants and traditional first-generation projects will give oil companies around 17% of the European biofuels market by 2010, said Mariano Alarco, a biofuels analyst at Goldman Sachs.

That's a big jump from almost zero now, but Alarco expects agribusinesses to remain the market leaders with a 30% share, followed by independent producers with 20%.

From the middle of the next decade, when second-generation technology is expected to be widely adopted, the situation could change.

Western governments' desire to reduce their reliance on imported energy should also help boost oil majors' involvement.

The EU currently has a voluntary target that biofuels make up 5.75% of road fuel consumption by 2010. Industry players expect the target to become obligatory and to rise. France wants a 10% target by 2015, and Morgan Stanley thinks this will more than likely be adopted.

While this would create a multi-billion euro market for biofuels, oil majors are expected to keep their primary focus firmly on hydrocarbons, which analysts expect to underpin the energy mix for many decades to come.

"BP and Shell are a lot more interested in spending their money in the upstream (oil production). That's where they make their money. That's where they have the advantages," Alarco said.