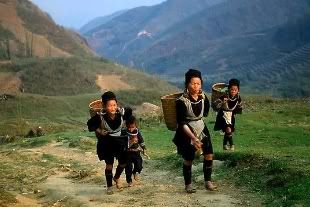 A while ago, a group of NGOs tried to make a (rather uninformed) case against biofuel production in the developing world (
earlier post
). One of its arguments was that the environment in which 'indigenous' peoples and 'ethnic minorities' live would be destroyed and that their culture would soon follow. We don't want to go over this problematic culturalist (and neocolonialist) argument again. All we can say here is that biofuels production may actually result in the opposite: it may enhance these people's cultural resilience, because it promises to strengthen the economic and social infrastructure on which the community's culture is based.
This is coming from the arid mountains bordering Guizhou, Sichuan and Yunnan provinces, in China. Ethnic minorties there may soon be benefiting from the seeds of a locally grown tree that provides a feedstock for biofuels. The indigenous 'hill tribes' are becoming energy farmers and by doing so, they are hoping to lift themselves out of poverty, so that they can preserve their traditions...
The four-year project aimed at alleviating poverty in southwest China has been jointly established by the United Nations Development Programme (UNDP) and the Chinese government. The US$ 8,58 million project was launched on Tuesday in Beijing, and is aimed at using green technologies to reduce poverty and improve fragile ecosystems.
The
"Green Poverty Reduction in China"
project targets ethnic minority communities in ecologically fragile and remote regions:
ethanol :: biodiesel :: biomass :: bioenergy :: biofuels :: energy :: sustainability :: indigenous peoples :: ethnic minorities :: poverty alleviation :: China ::

The project aims to create a market for the oil-rich seeds of the Jatropha Curcas L tree, which grows wild in the mountainous regions of western China. Traditionally used as a hedge and to prevent desertification, its cultivation would hopefully lead to more fertile land in an area where soil erosion and aridity hinder agriculture and the ecosystem.

The project will also develop production of Jarrah Dayun, a raw material for traditional medicine, in the Xinjiang Uygur Autonomous Region and provide small wind turbines to poor herdsmen in the Inner Mongolia Autonomous Region.

Knowledge gained through the pilot projects will be disseminated for its proposed extension across the country.

This initiative is jointly established by the UNDP, the Ministry of Science and Technology and the China International Center For Economic and Technical Exchanges of the Ministry of Commerce.

"Fostering the potential of green industries and energy sources in remote mountain areas and deserts is an important vehicle which can generate income and employment opportunities, while protecting the environment," said Alessandra Tisot, UNDP Senior Deputy Resident Representative in China.