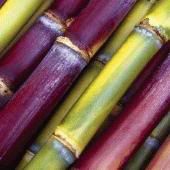 Earlier we reported on the great potential of sugarcane as a crop from which many (non-fuel) bioproducts can be made, such as bioplastics, detergents, tinctures, drugs, glues, gels, and even biopolymers resembling nylon (
earlier post
). Now as a result of an initiative by the
Mauritian Sugar Industry Research Institute
(MSIRI), eight countries have
decided
[*French] to form an international research and technology consortium aimed at increasing the use of sugarcane biomass for energy. Cooperation will go beyond research into ethanol production, which is now well established, and will therefor focus on using byproducts (bagasse, vinasse, molasses) to produce new liquid biofuels, energy and high-value bioproducts.
The decision was taken last week during a workshop in Brazil, organised by the Mauritius-based
International Society of Sugar Cane Technologists
(ISSCT). Jean-Claude Autrey, director of the MSIRI, already proposed the formation of a consortium in 2005 during his term as president of the executive committee of the ISSCT. At a meeting in Durban earlier this year, scientists from 8 countries decided to give it their go-ahead. The consortium now consists of science institutions from Australia, Brazil, South Africa, the United States, Thailand, India, Germany and Mauritius.
Collective efforts needed
According to Jean-Claude Autrey, research into the use of biomass and technologies related to it is very expensive, with each planned project costing millions of dollars, but the benefits will be considerable. Because of the costs and the sophistication of the research, a collective scientific effort is needed. Uniting scientists from different countries under a consortium will strengthen their leverage when applying for funds from international agencies, Autrey says.
In order to go beyond ethanol research, priority will be given to biomass conversion technologies, such as gasification of bagasse, and to the utilisation of sugar cane byproducts for the production of green specialty chemicals and biopolymers with a high added value. Using genetic engineering and sampling, new cane varieties will be developed with specific products in mind:
bioenergy
::
biofuels
::
energy
::
sustainability
::
sugarcane
::
bioproducts
::
bioplastics
::
green chemistry
::
biomass
::
gasification
::
cogeneration
::



Gasification of bagasse


During the first meeting of the consortium, whose chair is held by the MSIRI, scientists from Thailand, Brazil, the US, Australia and Mauritius focused on gasification technologies. Besides bagasse (the residue left over after crushing the sugar rich stems), sugarcane yields a considerable amount of non-sugar biomass, the energy of which can be used to produce electricity. The goal is to increase the efficiency with which this energy is extracted. Researchers estimate that increases of up to 250% can be made in this regard.

When more efficient gasification technologies arise, it becomes potentially feasible to design dedicated sugar cane varieties with high fibre contents and calorific values.

The small island state of Mauritius has 50 years experience in using cane biomass for energy, and the creation of the consortium is seen as a recognition of this expertise. Meanwhile, young Mauritian and Réunionese scientists are continuing the tradition of researching new applications for cane, with one group working on specialty chemicals of high value (earlier post). Recently, Mauritius took its own committment to creating a vibrant biofuels industry a step further by creating a biofuel alliance uniting other Indian Ocean island states and China and Malaysia (earlier post).