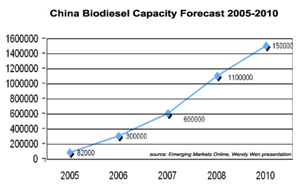 Biodiesel generally takes a backseat to ethanol in China (
earlier post
), but it apparently had show-stealing allure at the
2006 World Biofuels Symposium in Beijing
. With a keen eye on the renewable fuel's proliferation in Europe and the United States, the world's fastest-growing economic power
wants to go big
with biodiesel — if it can overcome some serious feedstock constraints.
Although ethanol is the most high-profile renewable transportation fuel in China, the nation is one of the biggest diesel users in the world, consuming approximately 60 million to how it should look: 70 million tons (16.5 billion to 19 billion gallons) per year. Production of biodiesel, however, has not yet caught up with the country's appetite for diesel. In 2004, China produced only 60,000 tons (16 million gallons) of biodiesel, which is less than 1 percent of the country's total diesel production in the previous year. The gap between fuel production and consumption is growing, and any country in this situation has a serious energy security dilemma and must diversify its energy supplies.
Feedstock constraints
The Chinese government is encouraging — if not pushing — the production and use of biofuels in order to meet its mounting transportation fuel needs. Its ethanol ambitions are taking flight, but a lack of available plant oils is hindering the proliferation of biodiesel. China doesn't have enough arable land resources available to produce the crops commonly used to produce biodiesel: soybeans, rapeseed, palm and castor beans, for example.
In fact, China is already the world's number one importer of vegetable oil, according to Zongbao Zhao, a professor at China's Dalian Institute of Chemical Physics. Despite this fact, China is making advances:
biodiesel :: biomass :: bioenergy :: biofuels :: energy :: sustainability :: bioconversion :: land :: China ::

Last year, the country increased biodiesel production to somewhere between 100,000 and 200,000 metric tons (30 million and 60 million gallons); under current biofuels development policies, the country is expected to increase its biodiesel production to 2 million tons per year (540 MMgy) by 2010. The federal government of China is expected to release a new implementation plan for the biofuels component of its 2006-'10 planning period by the end the year.

With vegetable oils in tight supply, 80 percent of China's biodiesel is currently made from recycled waste oil from restaurants. Mark Soutter, an analyst for BBI International and an attendee of the 2006 WBS, recalls speaking with a Chinese citizen at the conference who owns and operates a small biodiesel production facility in southern China that uses duck fat as its principal feedstock. Duck fat is easy to obtain and has a low value as a recycled fat because it tends to have an undesireable flavor, Soutter explains.

The country also has successfully used human sewage as a biodiesel feedstock. "China has made some pretty major advances in terms of recycling human sewage into biodiesel," explaining that metro buses have been powered with a fuel derived from the unsavory raw material.



Innovative bioconversion technologies


According to Zhao, the key to China's biodiesel industry lies with the use of innovative triacylglycerol resources. Zhao and his biomass conversion team have begun looking at the use of microbial oil in place of vegetable oils or animal fats for biodiesel production. In addition, the Huazhong University of Science and Technology is researching the use of lipases—enzymes that catalyze, or initiate, the hydrolysis of monoglycerides, diglycerides and triglycerides to glycerol and fatty acids—to make biodiesel.

Like the work Zhao is undertaking, other novel biodiesel production technologies emerging in China are still in the research and development stages. Thurmond says few, if any, novel processes have been ramped up to commercial scale. "Since it's such a new market for biodiesel, finding the kind of data that can be useful for forecasts was very difficult, but putting together the argument for the use of biofuels was not," he says.